Thanks to the folks from Veggie Tales for providing the titular phrase today...
Sunday was Mother's Day here in the U.S. (because I have so many international readers, don'tcha know). Rob's stepmom and dad are staying an hour or two away in Florida right now, but not for long, so they came down to see the kids and us that day. We decided to head to Zoo Miami for a fun excursion, since hey, we're members, and the best way to make use of that membership is to actually GO.
You know we're huge fans of Romero Britto, so of course we had to take advantage of the Britto photo op at the entrance to the zoo. Even the kids are getting in on the Team Odette Britto Craze. We collect all things "kissing fish," as we call it, but the girls are trying to talk me into collecting cat things for them, too. Um, no. Moving on.
There were some kinds of bird or another right inside the entrance after that, and Sophia went up to the cage and started poking at the mesh. Imagine her shock when the bird took wing and flew straight toward her at top speed! She was startled, to say the least. And then she was in hysterics. Hm, maybe you had to be there, but it was pretty funny.
sMIL and the girls had some fun, along with the ever-camera shy Jack, feeding the stinky flamingos. For a quarter, you could get an adult-sized fistful of bird grub, and throw it at the birds. It's kind of antithetical to what I imagine the birds usually do for food in the wild, but it was amusing all the same.
It was Orangutan Awareness Day, or something like that, in the zoo that day. What that had to do with Mother's Day is anyone's guess, but it was cool nonetheless. We were kind of rushed through the educational, "awareness" activities, which was suckish, but the kids did manage to glean a few bits of new information. Namely, they learned that gorillas have short, stubby phalanges fit for their ground-dwelling lifestyle, whilst the orangs have long, skinny fingers for climbing and hanging around in trees. Further, they learned about the diets of the large apes and how that fits in with their lifestyle. I wish we'd had a chance to visit the whole set-up on that, but... someone wanted to keep walking, and it wasn't me. 
So what are you gonna do? Move on, I guess.
Can you guess what on Earth Sophia is doing here? Those are supposed to be the lengthy arms of an orangutan she's modeling in place of her own. I always tell Rob he's got freakishly long arms; maybe he's the missing link...
At that point, we girls separated from Rob, Jack and FIL, thanks to extreme asshattery on the part of the boy-child. He does not like to be awakened by someone other than his own brain in the morning, and when he is, he's the grumpiest little butt you ever wanted to meet. sMIL had graciously bought everyone hot dogs ('cept me; I don't eat 'em) for lunch, and he refused to eat. Then he cried for, no shit, literally like an hour, about being hungry. It was driving me nuts, so Denise suggested we let the boys chill by the bears while we girls went ahead to the Children's Zoo. Worked for me.
The lady-babes had fun pretending to be baby birds in these giant 'nests' at the front of the Children's Zoo. I think Sophie is totes adorbs in that top picture.
There was some excavating going on - I don't know what it is with things dedicated to the younger crowd, but it's apparently illegal not to include fake fossils - and then this mountain-climbing you see here. It's funny the way the girls are so different: Sophia climbed up and launched herself off fearlessly in about three seconds, while Chloë gingerly picked her way to the top and then changed her mind, taking about six days to get back down.
That was apparently the point where my iPhone died, so the remainder of these photos will be comin' atcha courtesy of Google Images. We went into the House O' Bugs And Lizards next, where we saw some of these Madagascar Hissing Cockroaches (not a fan),...
... a blue-tongued skink, which Sophie spent the rest of the afternoon hilariously imitating,...
... and discovered there was such a thing as lizards without legs. I'm honestly not sure whether I was aware of that, but now I am, and no one's the wiser. Except the two of you reading.
We made our way over the Asian elephant exhibit, where I told my story about being a youngster fascinated by such a creature peeing buckets for what seemed like half an hour once. I don't know why that memory made such an impact on me, especially now when I feel like the size of my bladder compares. I swear it'll be a museum relic if I die an unnatural death and they perform an autopsy, but I digress.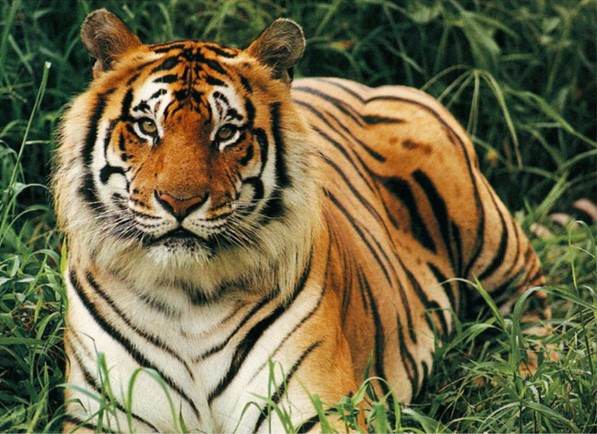 The boys caught up with us by about that point, and Denise was ready to skedaddle. We stopped by the Bengal tiger memorial exhibit (to remember a young girl, not a tiger) to admire the beautiful beast one more time, and then we headed back to the homestead in Homestead.
A long, long time ago, back in my college daze, I used to frequent this amazing pizza restaurant called, what else? The Big Cheese. Imagine my delight when I discovered that a newer one has opened up just down the road from us! We hadn't gone yet, so when Denise broached the subject of dinner, I waxed poetic about the garlic knots there. They didn't disappoint. Completely, utterly garlicky, and she had fun untying the knots. (She's a mathemagician.) I could eat them every night of my life. The pizza's okay, too, but go for the knots, folks.
Shortly after dinner, we bid so long, farewell, and adieu to Al and Denise, and their little dog, Hattie, too. 
Hope you all enjoyed your Dia de Las Madres, too.
Fin.
P.S. Belated Happy Mother's Day to my sister, Stacey; my mamacita; my BFF, Lisa, and all the other special moms in my life.

♥

you all!