It's been a few weeks since I've participated, but that's because we've been kind of lazy, and I've had camnesia. Sundays in my City are brought to you by Unknown Mami. Check out this link to see more photographs from around the globe.
If you missed it, check out this post for more about our fun NERF/Cheetos Block Party yesterday - it was a blast!
I have no idear why that picture is showing up so smallishly, but anyway, speaking of parties and free gifts, Smiley360 sent us this wicked cool craft kit full of BIC Mark-It markers, butterfly chimes to decorate, and glittery-doodads, ribbons and more to finish the job. (Hi, my name is Smellyann, and I am addicted to markers. You could say I was just a li'l excited!)
The photos of Sophia decorating, and of all the kids with their finished products, have apparently disappeared into the ether. Bah! But here are Chloë and Jack, who griped at first about the craft being too "girly" and then jumped right in when he saw how much fun the girls were having. Hee. Typical Jack.
You guys may have noticed we have a teensy obsession with Romero Britto's funky pop art, no? Welp, since he lives here in Miami, damn near everything is decorated with his style. How fun was it to find an ATM when we went shopping at Target recently?! (Answer: Very.)
The Manx kittens Rob rescued from precarious positions recently have about doubled in size since we took them in to nurse them back to health. Stick a fork in them; they're done! We're ready to adopt them out, but so far no takers on CraigsList or Freecycle (ours allows it), which is fine. Time to bring out the big guns: We're going to have them neutered and then try again. We WILL NOT be keeping these puppies (as I always call them; wishful thinking, mayhaps?), so there is not one iota of an inkling of a chance they will grow up here. NO, no, no!
Rob is pretty adamant that they go together, so does anyone want two freakishly adorable kitties? They come with the bed they've commandeered, if that helps, along with any food we have for them. (Their taillessness dictates that they be fed soft food, 'cause dry food is too hard for them to poop out. They cry otherwise, and their poor little heinies get all sore and scabby. Do NOT try it. Oh. I'm probably not really selling them very well here, huh??)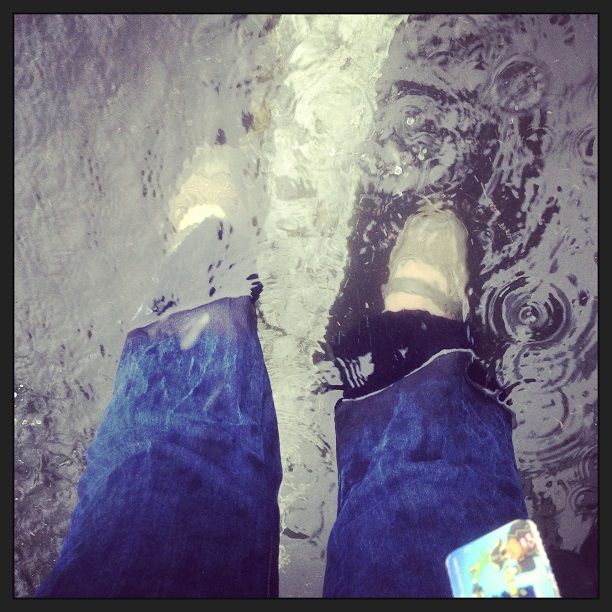 Now this is the TRUE "in my city" part: As I left the dermatologist's office on Wednesday, amidst his requests that I drive carefully, I realized that we'd had a downpour, to put it mildly. You can't really tell from this picture just how deep that water was; it was to the floor of my Honda Odyssey and therefore about midway up my calf.
I started just walking out to Penelope (the van), but when I got about ankle-deep, I decided I didn't care who was looking out the window and started jumping, leaping, and dancing my way to Penny. The rain continued, and I lifted up my arms and laughed my head off, absolutely refusing to run. What was the point? I was already soaked, might as well have some fun with it! (Needless to say, I left the AC off on the drive home. I was frrrrozen when I walked in the door and stripped down to nothin'!)
My hands are so shaky lately, so you get blurry pix. Sorry. We went grocery shopping last week (I saved $215 if anyone but me cares; gotta love Publix!) and got stuff for S'mores. We brought them to the NERF/Cheetos Block Party Saturday, but the kids could NOT wait. We made some in the microwave - and would you believe, Jack had the nerve NOT to finish his?! Some Girl Scout he'd make!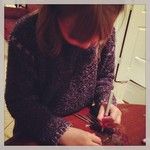 Checkiddout, I found the picture of Sophie coloring her butterfly chime... but why the heck are those photos so tiny?
Oh, looky, I've been knitting for Vinnie again. It took me a while to start up again after the move, because the people who packed for us did a pretty sucky job. I found my straights in a box labeled "arrows," which is fantastic. Anyway, the sweater. I've had the wool forever and a day, obstensibly to knit socks for Robert, but I think that ship has sailed. So while the blanket I'm making him waits for the smaller needles to be rediscovered, I cast on for a sweater. It's handspun wool with no tag, so I had no clue how much yardage I had. I nearly ran out of the blue on the back, so I decided it had to be a colorblocked sweater. (Have I ever mentioned that I freaking hate the colorblock trend? I do.) Stephanie (Vinnie's mom) will have to tell me whether she wants the whole front red or to mix it up even more. (Steph: I also have green and black.)
Lastly - and probably least, this time - I found out Best Buy was having a clearance sale today. 49¢ for school and office supplies and, like I mentioned with the markers, I adore school supplies. I mean, few things get me more pumped. It's sad but true. Since I had a $5 Best Buy Reward Zone sitting in my account for the longest time, I determined we needed to make a beeline for that odious store and spend it on the beloved supplies o' school. Welp, we price-checked lots of things, and these are the 11 things we got for a total of 41¢! I saved over $79, y'all! I know; cha-ching. (You can barely contain yourselves over there, amiright?)
'Kay. I'm done sharing pictures. What's up with you guys?
Fin.