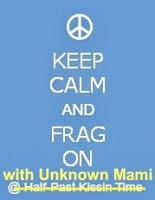 Make sure and link up with Unknown Mami here if you're fragmenting today!
********
First, I'm excited to have a playdate this afternoon/evening with an old pal from my college days, his wife, and their three-year-old boy/girl twins! Marc is a quadriplegic, and I used to be his night nurse all those years ago. They live here in the Miami area, but we've had yet to see them - until today. I love Marc and can't wait to meet his beautiful family!
********
I posted in FF a week or two ago about my lack of talent in artfully painting my nails. They looked like utter crap. Well, I got this  Dotting 5 X 2 Way Marbleizing Dotting Pen Set for Nail Art Manicure Pedicure, 4 Ounce
  really inexpensive set off Amazon for nail decorating, and you'll be happy (fer sure) to know it's helping me remedy that sad fact:
I made these adorable - I think - strawberries on my daughter Sophie's nails. Seriously, I lurved them so much. That was my 2nd attempt at using the new tools; my first attempt was on my own nails and was so unspectacular that my computer has apparently eaten the picture. No worries; I have more.
Then, I did multi-colored polka-spots and squiggles on my nails. I liked it a lot, but I peeled it off quickly because I'm OCD about picking at my nails!
And now, I'm sportin' these flowers on mis uñas, which I like bunches. I'm all over Pinterest checking out nail art for my next design, but the bemoaned ombre effect can't be achieved with these tools, and I still don't know how to do it!
********
In other, more important news, we're down three family members as of Wednesday.
For the past two months, we've been home to eight cats and realized that financial concerns were soon going to make that an impossible fact to continue. All seven of these cats (above) were going to be brought to a kitty shelter early Wednesday morning, but when the time came, sobbing, I realized I could not do it. Just couldn't. Like I said, they are family, and so I had Rob open the kennels of four of them before taking in the other three. So here's the current rundown in order of appearance in our lives:
We adopted Tinkerbell in August or September, 2005, when Sophia was a baby. My then-friend, Erin, actually flew her up from Atlanta to Virginia Beach for us. She went on to have septuplets the following year, having escaped before we had a chance to have her spayed. That's since been remedied. She is our matron, our fat old lady, and my own personal favorite of the "babies." Tink was never in any danger of being given up to the shelter; she was the lone holdout who watched her seven cohorts be kenneled on Wednesday morning.
Star came next. I was playing Bunco at a friend's house one night, and she mentioned that they had to rehome Star because she didn't get along with their other cats. Well, she's beautiful and sweet, always lying on Rob or me at night in the bed, but we had the same problem. She was forever hissing at and fighting with the other cats, and she never ingratiated herself much to any of us people-types, either. We brought Star to the shelter, and she's the only one I'm not terribly missing, either. Sorry, Starry.
Cupcake was given to us by a friend of another one of my Bunco pals. She was a tiny kitten then. Rob fell in love with her. She was his cat, and he was her person. They were forever together, cuddling and snuggling. Sadly, Cupcake has always had peeing issues; we almost gave her up once long ago, but they were going to euthanize her, so we took her back home. We've changed litters countless times, added many more boxes, and still have had no solution to the problem. In the end, Cupcake was taken to the shelter. Rob was in tears all last night about it, which of course put me in tears. I feel really badly about her and wish it could have been different.
Muffin was Cupcake's littermate. The same people couldn't keep her, so I broke down and got her, too. Jack is her person. When he was at Cub Scouts camp last summer, Muffin looked for him and cried everywhere. We used to have peeing issues with her, long ago when Cuppy started, but Muffy has improved. At the last minute, I had Rob open the kennel and let her out. Jack was thrilled when he woke up later Wednesday morning.
Ginger was Sophia's cat, though he also seemed to have adopted Jack as his person in recent months. When we lived in Portsmouth, VA, last Fall, I was driving with Sophia very late one night to the drugstore. All of a sudden, in my headlights, I spied two tiny cats racing around on the road in front of me. One got away, but when I stopped the van to get them to safety, Ginger cowered and stayed put. I picked him up and handed him to Sophia to hold while we went to the store.  She fell in love with him and begged her daddy to let her keep him. Unfortunately, he's developed peeing-out-of-the-box issues in recent months, too, and he went to the shelter on Wednesday. Sophia didn't cry, and that is what saddens me the most.
Pepper was "the one that got away" in the Ginger story. On the way home from CVS that night, I found Pepper in my headlights again. I was determined to rescue him before he got squashed. He was full of piss and vinegar then, though he's turned into the most docile cat ever since. He and Chloë belong to each other, and I love him almost as much. We've been through a lot with Pepper almost dying last year, requiring multiple blood transfusions. He's since chubbed up plenty and his now heaviest second only to Tinkerbell! It's hard to tell under all the beautiful fluff. The idea of giving Pepper away is what had me sobbing on Wednesday, finally relenting to let him and three other cats out of their kennels. When Chloë woke up and found him still here, she "cried happy," as she says. I did, too.
And finally, this is our third set of kitten twins, Hunter and Lucky. Lucky came first; Rob rescued him from where he was flattened under a dumpster. We didn't think he would make it, but he's at least tripled in size since then. Lucky, we found under Rob's kayak in the backyard. They are manx kitties (no tail). They have a third, nearly identical-looking littermate somewhere out there, but thankfully we haven't needed to rescue him yet. I never intended to keep these two at all, but I guess Rob had other plans, because he petitioned to keep them and I allowed him to do so. I'm hoping it makes up just a little bit for losing Cupcake. They are sweet and cute...
So we'll see how this goes. If finances get even tighter, though, we'll have to re-evaluate.
********
Well, that's it from me for this week. Thanks for stopping by; enjoy your weekend!
Fin.