Link up here if you are merry and bright.
And yes, I changed the title and inner wording a bit to reflect the fact that, ya know, not everyone is celebrating Christmas right now. (Though I do, and am.)
(If you don't like it, build a bridge and get over it already!) 
(And I mean that in the nicest sense.)
The Winter Holiday Meme
1. Do you send winter holiday cards? 
I do, and I did. Normally, I get a generic holiday alternative for my non-Christmas-celebrating friends, but I ran out of those early and had to send these Christmas cards to some of them. And I refused to feel bad about it, just this one time, because I need to get over being so hard on myself. Meh.
Oh, and if you want one to hang on your fridge (because, c'mon, who wouldn't?), send me your address. I have more. :D
2. How soon do you start shopping?
I never really stop. I just put things I find in the gift closet all year long.
3. Who do you shop for?
It varies from year to year, but historically I don't shop for too many people outside my immediate family. I might if I were wealthy, but alas.
4. Do you put up a Christmas tree?
Normally, I love to, but we haven't done it this year and we didn't do it last year. I may just do that this year.
5. If so, is it fake or real?
I like this idea. You know, I've never had a Jell-O shot in my life. Now is probably not the time to start, either.
Um, what? Oh - fake, at least for right now.

6. Do you like tinsel?
If we didn't have pets who would have entangled, strangled intestines after ingesting it, I might love it... Nope, not even then.

7. Do you use homemade or store bought ornaments?
A little bit of both.

8. Do you put Christmas lights outside your house?
Ideally, I'd do something, but I'm not the best light-hanger-upper, and Hubs isn't able to at present.

9. Do you put lights on the tree?
Yes, but our fake tree is pre-lit, which saves mucho agravación.

10. How about popcorn and cranberries?
Turns out it's hard to find a funny picture about that.
I haven't done it since I was a kid, I don't think but I bet my kids might enjoy that - next year! ;)

11. Is there a wreath hanging on your door?
This is what is on our door right now. And yes, I do think it looks like that, which makes me giggle.

13. Do you hang up your stocking?
I do, and just to be unselfish, I hang up everyone else's, too.

14. Does your family read 'Twas the night before Christmas?
We used to. I don't know why we stopped.

15. Christmas Movie?
I dont think I understand the question.

16. Character from any Christmas Movie:
Who is better than this guy?

17. Christmas Song:
I'm not a fan of either one, but c'mon. That shit's funny!
18. Christmas Memory:
So far this year, I've given 50 or 60 Christmas presents. Every time the recipient has been genuinely pleased with it, that is a new happy memory for me.
19. Give or Receive?
Depends - is it money? Just kidding. I would much rather give than receive. 
22. Ham or Turkey?
I prefer neither, actually! Pass the broccoli.

24. White Lights or Colored Lights?
White lights are prettier, IMO, which is odd because I normally find all-white to be bland and boring.

25. Blinking Lights or Still Lights?
I don't care, really as long as they don't suck.
26. Were you Naughty or Nice this year?
Yes. Yes, I was.

27. What do you want for Christmas this year?
I want Hubs to miraculously get all better. :'(

28. When do you open your gifts?
Whenever I'm given one and am told to open it!

29. What's the best gift you've ever gotten?
Chloë Raine,
Sophia Lorelei,
and
Jack River!!
(These are old Odettelette pictures, yes. But they're cute)

30. What's the worst gift you've ever gotten?
I really shouldn't say, lest the person who gave it to me reads this post!

31. Who gives you the most gifts?
If I were being spiritual about it, I would say God gave me lots of gifts. Which is true. However, Hubs gives me plenty of gifts. By which I mean, I buy them, give them to myself, and then thank him! ;)
32. Have you ever had a secret Santa?
I'm pretty sure I have, but I don't remember any of the details whatsoever!

33. Do you like wrapping gifts?
I actually enjoy it, except when the cat helps. That isn't my favorite.

34. Do you put change in those red buckets?
I haven't seen any down here, but when I pass one and have some change, sure, I'll throw it in the bucket. Around here, I see a lot of Sisters of Mercy or whatever they are, and since I don't know anything about them or what they're about, and they never seem to speak to me, I don't contribute. #SorryNotSorry

35. Do you burn a yule log?
No, I never have. And we don't have a place of fire here in Miami, anyway.

36. Can you name all the reindeer?
Yeah, but I bet I'm not the only one who has to sing the song in her head to get them all straight!

37. Do you bake cookies?
I totally want these!
Yes, I do. I plan to do it on, like, Christmas Eve or Day this year, instead of over the whole forenight week in advance. We'll see how that goes.

38. Have you ever seen your mommy kissing Santa Claus?
No.

39. Have you ever gotten a kiss under the mistletoe?
Actually, yeah. But have you seen this video? It's pretty cool.

41. Do you drive around and look at the Christmas lights?
Yeah, we like to do that. Again, though, haven't done it down here yet. Maybe next year. :\

42. Have you ever left Santa cookies?
I think we did it once. Maybe?

43. Have you ever sat on Santa's lap?
Of course I have, sure.

44. Who do you celebrate Christmas with?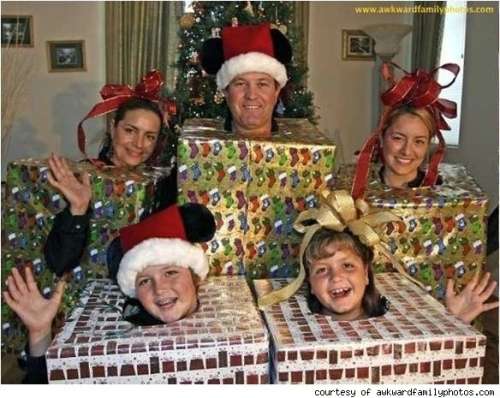 The crazy guy I married, and three of the nutty kiddos we had together!

45. Where do you celebrate Christmas?
Almost exclusively at home. One year, we didn't. Remind me to tell you about that sometime!

46. Have you ever had a white Christmas?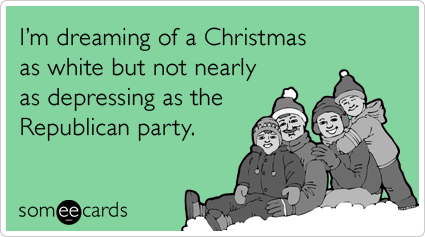 I grew up in Central New York. You don't know snow until you've grown up with the words "lake effect" as part of your vernacular.

47. Have you ever had your picture taken with Santa?
Yes.
48. What part of Christmas do you look most forward to?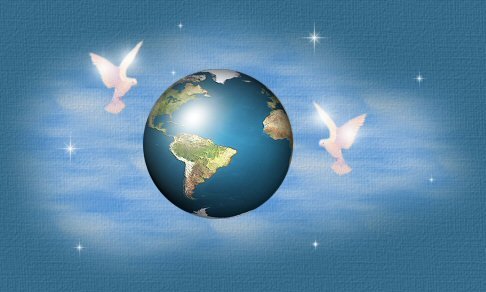 Peace on Earth, Goodwill toward Man.
 Wherever you are, however you celebrate this season,
have a joyous, happy holiday(s) with your loved ones.
And to those of you who, like us, do celebrate it:
Fin.