Link up with the Unknown Mami here if you're going to show off bits and pieces about your hometown and surrounds today!
I took the chillies to see the movie 

Inside Out

at the local theater with four free movie tickets a week or so ago. The three of them loved it; me, not so much. I give it a B- and am not looking forward to when it comes out on DVD. I'll inevitably buy it for the kids, and then, ugh. You parents know what comes next!
Jack and Sophia, the younger two kidlets, started martial arts classes last Thursday, after I purchased a killer steal of a Groupon online recently. Oh-em-gee, they love it. LOVE. Jack broke a board with a palm strike two days ago, and he has not stopped talking about it since then. (Sophie missed the class, not feeling well that evening). Now Chloë, who was adamantly against signing up, wants to join the class, too. Hopefully they do family discounts, eh?
Last Friday, Jack and Chloë went in for five hours of growth hormone stimulation testing. They were super-tired, starving, and bored, so it wasn't long before a second bed was delivered to the room for Curls to, y'know, curl up next to Jack.  Everyone came in to admire the two of them snoozing next to each other; it was pretty darling.
As for the results, I got those on Thursday: Jack makes almost zero HGH even with artificial stimulation, and Chloë makes normal amounts despite being enormously small. Next step for Jack is an MRI of the hypothalamus before presenting his shoo-in of a case to our insurance; Chloë's idiopathic short stature case gets presented immediately to them sans MRI. Keep your fingers crossed for her, please!
Rob's tattoo (bottom right, on his tummy) is his jokingly self-proclaimed self-portrait. Then we found this chartreuse look-alike on the Interwebs. What the heck? Art imitating life, or what?
Rob's late kitten, Spike, has been mourned so much for so long, and Rob has missed him greatly. He finally requested, when the time was right, a new kitty-baby to love. Enter Henry. I found him and adopted him from the Humane Society as a complete surprise to Hubs, who has strongly bonded with Hank already. And if you can't tell from those paws, I think this is going to be one large feline!
Just a wee egg shell Sophie and I discovered outside the abode a couple of days ago. The other half was nowhere to be found, prompting her to do an impression of the newly-hatched birdie walking around with its half-shell stuck to its rump and... well, you probably had to be there. (She's very amusing, that girl.)
I found an awesome deal on Converse kicks for Rob the other day on eBay, so I snagged a pair in his hard-to-find size. The same seller had equally-rockin' prices on these TOMS shoes, and since (a) I never owned any but wanted to, (b) I needed red shoes anywho, and (c) I love their #OneForOne business model, I snagged two pair. And you know what? I lurve them so.
Speaking of eBay, I snagged a 30-critter set of Littlest Pet Shop toys for Sophia, who does various and sundry creative things with these guys (when our Chihuahua, Paco, isn't busy chewing them up). I got the set cheaply, and she was screamy-excited when they arrived. I guess one was pretty rare, too, so double the screaminess happened. Happy to make my kiddo so overjoyed!
Speaking of Sophia, she wanted a photo shoot with big sister Chloë on Wednesday, so I was altogether too happy to oblige. I just wish Jack would let me take more photos of him, to even things out a little bit. Alas and alack, he hates the lens being trained on him, so I need to sneak snaps whenever I can!
Rob (Hubs) needed a new daily-wear watch desperately, so I used all my many Shop Your Way rewards points from Sears and snagged him this $$$ Pulsar digital one - after getting his thumbs-up on the model - for exactly ZERO dollars out of pocket. Free is my favorite price, y'all. And, he thinks it's pretty great, so win-win!
Y por fín,
my wireless keyboard kicked the proverbial bucket today, so I let my kids and Luis, their BFF in the neighborhood, take a mini sledgehammer to it and utterly annihilate it. Keys went flying everywhere; I probably shoulda provided safety goggles, but I didn't think of it, so nope. But they had fun, no one got hurt, and they were able to cross off something on their Summer Bucket List. Hee!
Welp, thanks for stopping by. I'm sorry for being all over the map here, but I did promise randomness in the post title, right?!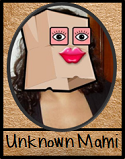 Don't forget to visit Unknown Mami and the other participants, y'all!
Fin.