On Friday night, Rob took Sophia to her riding lesson. She was heading to a jump with her horse, Lacey, when Lacey decided to skip the jump and started bucking. Sophia didn't have her foot properly in the stirrup, and she (in Rob's words) tried playing Superman. She landed on her face and arm. They tried putting her back on her horse, but the arm wouldn't cooperate. Hours later, and x-rays showed a complete fracture of the radius, across the bone and up to the growth plate of the hand. So, she's in a cast for 4-6 weeks and off her horse for 6-8 weeks. She's been "over it" since about 5 minutes after that prognosis was given and can't wait to get back on Lacey again!
~*~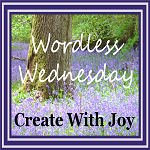 Feeling Wordless yourself? Link up here with Create With Joy for Wordless Wednesday to join the rest of the crew!
Thanks for stopping by!
Fin.