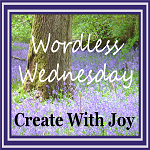 Link up here if you're feeling wordless today, too! (Or not, like I who am almost never speechless...)
☼
All of the following happened on Monday, August 1st, which was an AWESOME day for Team Odette:
Sophia, who was bucked off her horse Lacy on July 1st, had the cast taken off on August 1st. The break, which the pediatric sports orthopedist called "pretty nasty," healed rapidly beautifully and beautifully rapidly! There was even more and more widely distributed new bone growth than was expected on Monday, which the doc said may have been attributable to the immense quantity of milk Sophia consumes on a regular basis. Either way, YAY! When the signature-laden cast was taken off, Doc asked Sophie whether she was keeping it or not. Sophia gave a disgusted look and said, "Please. Throw it AWAY!" She hated that thing more than anything else on Earth. Three more weeks of taking it easy with the now-castless wrist until she can start truly riding Lacy again. Squee!
☼
Secondly, Tapioca the Chiweenie pup whom we were supposedly "temporarily" fostering for That Black Dog Rescue since May 14th... was adopted. BY US! We fell in love with her very quickly (immediately in my case), and we realized there would just not be any giving Tapi back to the rescue. So now, she is truly a member of Team Odette. We all adore her quirky, silly little self. Even Paco. Unless he's having a snack, and then paws off!
☼
And finally, we got a new-to-us car! Our prior car, a 2003 Mitsubishi Eclipse, was traded in to Carvana, which is the company through which we purchased "Phoenix." Sprocket, the Eclipse, was so completely sucktastic that we plotted his demise every which way to Sunday and attempted to convince the Carvana delivery folks on Monday to carry at least one of them out, so who knows? Hee. But Phoenix is a 180º-difference from Sprocket, and all of Team Odette are excited beyond words to have her. Even Jack, who just abhors being photographed, trust me.
☼
Oh, and one more thing happened: Since our new dental insurance kicked in that same day (it was a crazy one to be sure), we all had our first dentist appointments in, well, a year. All five of us have notoriously bad teeth, genetically speaking, so it was not a huge shocker when, one-by-one, we each went back and, one-by-one, came back with an abysmal report and astronomically expensive treatment plan. Chloë went last, and when the pediatric dentist came to me and told me that she had a great visit with NO CAVITIES and only needed sealants added, which would cost us $0 out of pocket, Oh, my gosh, you guys. I high-fived everyone right up to God himself. WOOT WOOT!!!
☼
So that's what's new with us this week. What's new with y'all?
Fin.