Hello, Internet Friends! Welcome back. I'm sick as hell, so I have no fun intro thoughts right now. I'll try and save all my witticism for the actual questions. With that, link up here if you're joining us this week!
~*~*~*~*~

Last week we talked about things that bug us.  This week (and maybe next), how about things that we like about the holidays.  

1. What's your favorite thing about the holidays?
Of all the things we - personally, as a family - do during the month of December, the best favorite thing about it is family together time. When we're not, you know, arguing over stupid bullshit. LOL.

2. Do you send out Christmas cards and if so how many do you send?
Yes, I always send out cards. It's a thing I must do. This year I'm late and just got them in the mail yesterday. Except for the dozen or so still sitting here because I've run out of stamps and haven't bought more yet. This year, I'm sending out 75, which is about par for the course for us. Wanna get a card from us? I'd love to send you one. But I need your address. Promise I'm not a stalker. ;)

3. Be honest: holiday newsletters. Love 'em or hate 'em?
I hate the ones that are like, brag brag brag, with an extra-heavy dose of brag. You feel me? I've never written one, but every year I'm tempted to send one and just be real with shit. For example, and this is all not related to this year, "In January, I forgot to pay the electric bill and we damn near froze to death... In July, Sophia was riding her horse who decided to turn at the last moment and bucked Sophia off, breaking her wrist..." etc. You know? Funny, because it's real.

4. Be honest: photo cards. Love 'em or hate 'em?
This is ours this year. Obviously, I'm in the love 'em category. However, admittedly, this one was not my best work. For one, Chloë was cropped out of the picture in the top left, which sucks big time. Secondly, it's just kind of meh and boring. But it got done, I could cross it off my list, and so there's that. But yes, I really do like getting (and sending) them.

5. How soon do you start shopping?
I start shopping whenever I find a hot deal on something I know a person wants and I concurrently have the dollahs to do so. Like my Christmas cards, I started a bit late this year.

6. Real or fake tree?

Well, ideally, I'd love to have a real Christmas tree. However, I don't think in all our years of marital bliss that we have had anything but a pre-lit artificial tree. And we have the cats. And the puppies. So planning our tree placement is rather difficult. This year, no tree (so far, but I'm working on it, Zippi!), so no problems! (But real would be nice.)
7. When do you put up your tree?
It's against my religion to put up the tree before Thanksgiving is over. Preferably, the first of December or later for me. I don't really care when everybody else does it, though, and I enjoy looking at everyone's Christmas décor!

8. When do you take down your tree?
Ideally, by New Year's Day. I'm not a Scrooge or anything, I just don't like dragging things out forever and a day.

9. Describe your typical tree (size, decorations, type)
It's usually about 7-8 feet tall, pre-lit, chock full of ornaments that represent our entire life histories - both separately and jointly - and usually strewn with that tinsel stuff you have to blow upward to get to the top of the tree.  I try, annually, to collect a new angel-themed ornament in memory of my son Robby, and those must always go toward the top of the tree. We also have an angel Christmas tree topper. All of this is in a box somewhere (or three boxes, or maybe four), because we haven't really gotten our Christmas on this year in a big, showy way.

10. What do you top your tree with?
I already answered that, oopsy. An angel. It changes, though.

11. Do you put Christmas lights outside your house?
Usually, but that's a job delegated to Hubs, and I haven't been able to get Hubs to do that deed this year. Yet.
12. Is there a wreath hanging on your door?
Right now, we have this bell thingamabob on the front door in lieu of a wreath. It'll do for this year, its second or third appearance for us, but I think I'm going to get a nicer, real wreath next year. I get bored of things like this, shown over and over.

13. Do you hang up stockings?
These are ours, right now, at this moment. So yes. I made the white one. That's Robby's.

14. Your favorite Christmas Movie(s):
I don't even really know. I've never sat down and watched Elf, A Christmas Story, It's A Wonderful Life, or much else that makes me feel like a bad... Christmasser. OH! WAIT! I know. It's Miracle on 34th Street. I adore that flick.

15. Be honest: A Christmas movie you don't like:
I liked Home Alone, but I've seen it umpteen million times and now I'm sick of it. So I guess I'll choose that one.

16. Favorite Christmas Song(s):
Really, my favorite Christmas song is The First Noël, because that was my mother's favorite, but Rob's is Little Drummer Boy. I stumbled across this African tribal version last night and absolutely loved it. I suggest giving it a listen!

17. Be honest: If I hear this/these Christmas songs again I will throw up:
I haven't really heard it this year (yet?), but I have memories of lots and lots of Grandma Got Run Over By a Reindeer from my childhood, which mostly sucked, and so I'm no longer a fan. That's pretty much it. I actually love Christmas music.

18. Give or Receive?
I definitely prefer to give! The above collage is from December 3rd of this year, because I had things to give, all wrapped up and waiting... If you know me, I just about EXPLODE with anticipation and giddiness over giddiness, and so... we opened everything we had already in the house so far in the year on that date. I'm trying so hard not to do it again! Hee.
19. Eggnog or Mulled Cider?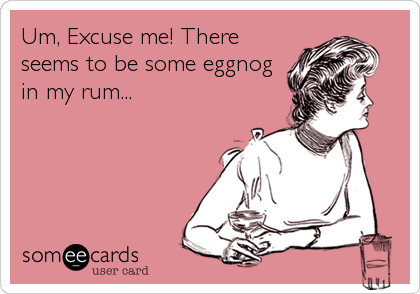 I used to be an eggnog girl all the way, but now... I'm more into the mulled cider. Yum!

20. Ham or Turkey?
EWW, ham. Never liked that crap even before I became a strict vegetarian in 2005. Ew EW EWW! Sorry if you're a fan. Turkey is not as obnoxious (to me), but obviously I can't eat that, either. So give me some hummus and we'll all be happy, 'kay?
~*~*~*~*~
Well that was fun. I'm feeling festive now. Except for looking at that ham and bananas crap (who does that?!). Here's hoping y'all have a lovely Sunday!
---