Hey hey, what do you say? Welcome back. Link up here if you wish to play along this week!
~*~*~*~*~
Saturday 9: Silent Night (1957) 
Unfamiliar with this week's tune? Hear it here.

1) How well do you know "Silent Night?" Without looking up the lyrics, could you sing along with Elvis?
I could do the whole first stanza and then manage most of the second. After that, I'm mouthing the words!
2) The Christmas with Elvis album hit the stores in October 1957. Were you already preparing for Christmas back in October?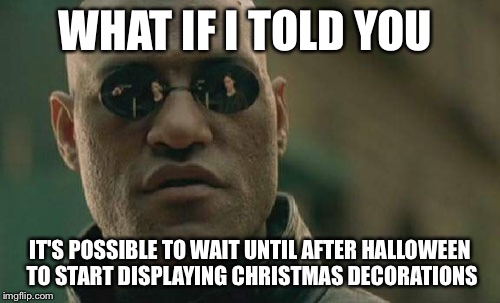 Often I am. This year, no.
3) Clearly Elvis liked a flocked white Christmas tree. Is your tree flocked, aluminum or pine green? Real or artificial? Or do you skip the whole tree thing altogether? 
Ideally, I would be the type of person who had a beautifully curated, themed, and colour-coordinated tree in every room of my house. Usually, we have a fake "pine" tree decorated to within an inch of its life with ornaments and bedazzling. (lol) THIS year, however sad it may make me, we have NO tree. I was convinced we'd brought our tree with us in the household packout that just came before Thanksgiving, but alas, we must have given it away. So then, I bought what I thought was a rather nice tree out of the last of our meagre budget, from Kohls.com. It turned out to be a sad little piece of corner-tree-crapola. That was returned, and the money used for groceries. So no tree this year. Ah, well. It's not the biggest deal in the world.
4) Back in the late 1950s, Elvis left his hair its natural brown color. In the 1960s he began having it dyed black. Do you have a salon appointment scheduled between now and year end?
No. I was going to take curly-haired Chloë and myself in for a trim, but Jack needed it worse, I cut my own bangs, and Chloë can wait. So, nope!
5) Have you ever peeked, looking for a Christmas gift you know is hidden for you somewhere in the house?
I don't think so as an adult, but I know as a kid I carefully unwrapped a few presents with my name on them. That ruined the surprise for me, though, so I discontinued the process.
Not a fan of gingerbread, except looking at prettily made houses.
7) Is anyone receiving a home made or do-it-yourself gift from you this year?
I don't know if I'll get it finished in time, but I'm hoping to make Sophia (my 12yo) a Slytherin scarf like this one. She and Chloë are now both heavily "into" all things Harry Potter. (Chloë would like to gleefully point out that she is a Ravenclaw.)
8) Do you wrap holiday gifts in paper, or do you take the gift bag route?
I only take the gift bag route when I have exactly ZERO time to wrap presents. I love wrapping gifts. Ideally, each separately themed tree would have a coordinating pile of gifts under it. Hee.
9) This time of year is big for charitable fundraising. Here's your chance to plug a cause or organization that's near and dear to you.
I love Heifer International. We donate money for a bunch of bunnies, or a goat, or whatever is needed, every year. And throughout the year, we get an occasional letter telling us how our gift has been used and benefited the recipient community. I love those letters! I really think Heifer International is one of the greatest causes out there!
That is all. Have a lovely, and if you're celebrating Chanukah, happy happy!