So since I've decided to stop representing JAFRA Cosmetics, I've made the leap into fully committing myself to using Young Living skincare and cosmetics. I recently purchased this YL ART Skincare System, above, which includes the 3.38-oz Gentle Cleanser, the 4-oz Refreshing Toner, and the 30-mL Light Moisturizer. 
Let me just say that the packaging was beautiful! It always is with Young Living products, and this set certainly did not disappoint. I couldn't wait until the next day to start using the products.
The bottles inside were gorgeous as well, and I appreciated their aesthetics. I used the ART™ Gentle Cleanser in the shower first, of course. Described by Young Living as using "a mild foaming action to lift and capture impurities without irritating the skin or stripping its natural oils,"  I have to say, I'm not a fan of it. It is too gentle! It's all fluff and foam and no substance. If you're like me and <ahem> frequently forget to take off your makeup before bed, this cleanser is NOT the one you're looking for to remove it (particularly mascara) the next day. I came out of the shower looking like Ozzy Osbourne. So that was a disappointment.
Thank goodness I had the ART Refreshing Toner to back it up. Young Living says it "removes any residual impurities without drying out the skin. With a perfect blend of essential oils, our toner will help balance your skin's natural pH." The toner helped remove the traces of mascara that were left under my eyes, as well as the rest of the little dirt or oil or whatever that remained. I did get some in my eye (with contacts in), and that stung a little but only for a moment. Oops!
The ART Light Moisturizer was nice and creamy, but not a rich, thick cream. The description reads, "works with your skin to help retain and maintain proper hydration. The proprietary blend of essential oils and natural ingredients will leave your face feeling soft and supple." Overall, I would say this is a decent starter system for someone getting their feet wet with Young Living, all of which products are made with their pure Seed-to-Seal essential oils. But... make sure you cleanse your face both morning and night!
I had originally started out with this 4-oz Young Living Orange Blossom Botanical Face Wash, which I loved. I felt it worked much better than the one in the ART Skincare System. I didn't have any problems with it -- except for accidentally leaving it in my hospital bathroom (from my recent week-long pneumonia stay) when I was discharged, so that was a stunning loss from which I barely recovered. ;) I decided to try the ART System after that, but once that cleanser is gone, I'm definitely going back to the Orange Blossom wash.
Thankfully, I still have the 2-oz Mint Satin Facial Scrub. I love this scrub! Sometimes I even use it when I'm not particularly feeling like I need a good sloughing, because the Peppermint essential oil in it really wakes me up and helps me get started on my day! It feels amazing afterward. I highly recommend this one.
Now, those aren't the only Young Living skincare products I have used. I also use this fine-looking set of goodies. I'm going to switch it up and describe these from right to left, from the picture above.
I really like the Art® Intensive Moisturizer, seen in the white tub with gold lid. The pump system inside is fun, with a hole in the center where the product comes out when the top is pushed. I don't know why, but this brings me joy now that I know what to expect. I like the innovation. Little things, I guess... ;) About this moisturizer, Young Living says, "This deep, ultra-hydrating lotion recaptures the qualities of younger-looking skin by reducing the appearance of fine lines and wrinkles and helping skin feel smoother and more pliable." It's a nice, thicker cream than the Light Moisturizer in the set at the top, and I use it when my skin is feeling a little drier and/or less supple. These Idaho winters are so dry - and Idaho already has a much drier climate than I became accustomed to in Miami, so I probably use this one about 2-3 times per week. It absorbs nicely and after a minute or two, I don't feel like I've caked my skin in moisturizer, you know? 
The ART® Sheerlumé is a lovely cream that helps make my sometimes-dull skin feel much brighter and fresher. The description provided by Young Living reads, "An advanced formula powered by a sophisticated, proprietary blend of alpine botanicals and pure essential oils, Sheerlumé™ will visibly brighten and balance skin tone." I feel like it really lives up to that description, and it'll last a good long while since I only use it once or twice a week. It's a nice addition to my Young Living ART® Skincare System.
Now the next product, the Essential Beauty Serum with the purple label in the small bottle, is one of my favorites. If you're not used to using essential oils, the scent may be off-putting for the first few uses, but you quickly get used to it and, I found in my case, come to like it. Plus, it blends in quickly, so that scent is not overpowering in my opinion. Young Living says it "contains essential oils like Blue Cypress and Lavender, known for their ability to restore the skin's natural moisture balance." To mix things up a bit, instead of using the Intensive Moisturizer, I sometimes add a drop or two of this serum (it's next to impossible for me to only eke out one drop without a second drop sneaking out) to the ART Light Moisturizer to add moisture and sheen to my skin. Like all of the Young Living skincare products I've tried, it blends into my skin quickly and beautifully, so that I don't feel greasy or oily afterward. I can recommend this product highly, as well.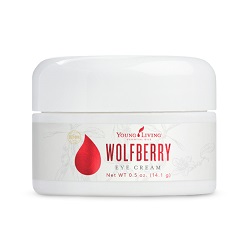 Every single day, I use the Young Living Wolfberry Eye Cream. "Wolfberry Eye Cream is a natural, water-based moisturizer. Containing the anti-aging and skin-conditioning properties of wolfberry seed oil, this cream soothes tired eyes and minimizes the appearance of fine lines." Now, at 41 years old, I can honestly say I've been using an eye moisturizer for 20 years, because I know that the eyes and the hands are usually the first parts of the body to show signs of aging. For 19½ of those years, I used a Jafra eye moisturizer, but now that I'm switched over to Young Living skincare, the Wolfberry is my go-to for this need. Believe me when I say that when you get to be about my age (or older), if you're not using an eye cream particularly targeted to this delicate skin area to provide specifically targeted moisture, it's obvious and noticeable. #SorryNotSorry if you're not using one, but if you're in need, I heartily recommend the Wolfberry Eye Cream. I was leery at first because I used the JAFRA Pro line, which is top-notch, but the Wolfberry stepped up and is a winner in my book. 
Finally, I don't use the Rose Ointment™ on my face but rather on the really dry areas of skin that sometimes pop up on my overly-moisturized body. If you can't tell by now, I am a lotion fanatic and abhor any kind of dry skin, so this rarely happens to me. But for some reason, my left elbow in particular needs extra moisture, as well as the occasional kneecaps and heels or whatever. I've also repeatedly told my kids that if they don't moisturize their hands during this dry winter, they may eventually dry out, crack, and bleed. Just a few days ago, Sophia came to me and said, "Mom, you were right," and sure enough thrust her dried and cracked hands in my face sadly. I handed her the Rose Ointment™, described as "a deeply nourishing blend for dry skin. Rose essential oil improves skin texture, while Tea Tree (Melaleuca Alternifolia) works to soothe rough, irritated skin," and she immediately felt relief with just one use. I wouldn't call it a miracle cream... or would I? ;)
So there's my bare two score and one year-old face after using the Young Living ART Skincare System products mentioned above. (Note: Obviously, I didn't use all the products I described, as I pick and choose each day which ones I feel are most necessary. I always use a cleanser, the toner, the eye cream, and a one or more of the facial moisturizers, though.) You can tell my face is still puffy from all the fluids - oh, my gosh, all the fluids (!!!) I received during my two weeks in the hospital, but never mind that. I can pretend it's not visible if you can. Please? [I started this post over a week ago, right after I was discharged, so things have eased out quite a bit since then. But I digress...] But not so bad, eh?
~♥~♥~♥~♥~
Now, on to the Savvy Minerals by Young Living cosmetics line! I have to admit, after 20 years of using almost exclusively JAFRA cosmetics, I was hesitant to make the leap when Savvy Minerals came out. I mean, look at my make-up case, which is entirely JAFRA except for the products above - and it's not even a complete look at the whole kit 'n' kaboodle:
But anyway, I made the leap. Young Living states: "A Savvy woman should never have to compromise quality for beauty. That's why Savvy Minerals by Young Living™ was formulated to include only the most pristine ingredients." Our site goes on to say, "Every Savvy Minerals product was carefully crafted so you can feel fabulous about yourself and what you're putting on your skin. Our range of products is developed with an unwavering standard of purity and quality, giving you a full variety of naturally derived products made without cheap fillers or synthetics." Now, I don't know about you, but that sounds pretty good to me. I'd much rather have these products on my skin, all day long, day in and day out, than something ... else.
So now, a few months later, I own a Warm and a Cool Foundation Powder (I use the Cool normally, but when I have a bit of color in the summer, the Warm is more appropriate); two of the Blush and also a Bronzer; the powder Eyeliner (please use this sparingly - there is a definite learning curve with this one, so take your time!); seven of the different Eyeshadows, the Veil for a glowy, air-brushed look (seriously, this product is amazeballs); and a gorgeous Lip Gloss. I really want to get the Mascara, because I wear my fall-back JAFRA one every single day, but it's been sold out for months! Come ON, Young Living, make some more! If you go on the Savvy Minerals page, you'll see there are plenty more cosmetics to from which to choose, which I don't have yet ... but I'll get there! ;) There is definitely something for everyone, every preference, and every skin tone. I can honestly say, I love this cosmetics line and feel good about wearing it, too.
So that's me - oh, that puffy face, though! <cringe> - wearing all the Young Living skincare and Savvy Minerals products I deemed necessary that day. Note, I am also wearing JAFRA mascara, for the reason mentioned above. Except for my moonface, I do love these lines of skin care and cosmetics enough that I have shut down my affiliation with JAFRA after 20 years and am exclusively repping the Young Living brand. I can't say enough good things about it, so I'll end here. Hit me up here if you are interested in hearing about more!
Thanks for your visit!