Hello, hello! Welcome back to the fray. Make sure you link up here to play along this week, and let's jump right into the fray!
~*~*~*~*~
1) In this song, Ms. Kitt sings that her lover is her favorite work of art. Tell us about a piece of artwork you can see from where you're sitting now. (Yes, that crayon drawing created by your 5-year-old nephew counts.)
So, I normally write about the
Britto
, but I'll mention this one instead (which happens to be just to the left of the big Britto, currently.)  We bought this fish rack hook rack from an antiques shop shortly after we bought our house in
Virginia Beach, VA
, in 2003. I hang my keys an extra keychain or two on there; Hubs hangs a carabiner or seven with various and sundry things on them on his hook, and we then we hang the dog leashes on the third hook. We have a pretty fish-themed style going on, and I love this piece!
2) She asks him to not change his hair. When will you next find yourself in the stylist's chair?
I was supposed to go last week, but the care and upkeep of Chloë's long curls came to a head (heh heh) this month, costing so much I had to scrap my plans for a trim. I cut my own bangs and called it a day.
3) Ms. Kitt always wanted to be a performer and attended the New York School of Performing Arts (aka the "Fame" school). Think back to your high school self. In what ways would you be surprised by how your life turned out?
Ha, well, by this point I figured I'd be a world-renowned marine scientist with a Nobel prize (for what?! I don't know) under my belt. I actually thought that! I had no doubts. I certainly didn't think that at 41, I'd be looking at raising three teenagers. And I most definitely didn't plan on homeschooling them even after they came along! Life is so weird.

4) Ms. Kitt took over the role of Catwoman on TV's Batman. Name another Batman villain.


The Penguin!
5) Ms. Kitt enjoyed tremendous success performing in Parisian nightclubs. Have you ever been to Paris? 
Not yet! Chloë wants to get engaged there (currently there is no suitor, haha)! I have been to Nice, and Eze, in France... but not Paris. I'd love to go with Hubs sometimes and stroll the Champs-élysées and of course, smooch atop the Eiffel Tower. One day.
This is the last Saturday  9 before Valentine's Day and so this morning we shall focus on the upcoming holiday. 
6) The holiday is also known as The Feast of St. Valentine. Do you have a special meal planned for next Wednesday?
I might have a little something up my sleeve (which I can't yet divulge, since certain family members read these posts), but definitely no feast. I'm not one to go all out - or expect anything - for Valentine's Day.
7) The phrase "wear your heart on your sleeve" began in medieval times. On Valentine's Day, men would celebrate the holiday by displaying their lady love's name on their sleeves. If you were going to adopt this custom, whose name would you wear?
Well, I'm not a man, but I would wear Rob's name on my sleeve. He has a piece of my heart, for sure. Having just celebrated the fourth anniversary of his brain surgery, he has just received a cancer diagnosis (not of the brain). I'm trying not to just fall apart... I love him so.
8) Women buy and send more Valentines than men do. What's the last greeting card you received?
The last ones we've received were for Christmas. I plan on giving out a few on Valentine's Day, myself.
9) Men buy and send more roses at Valentine's Day than women do. What's your favorite flower?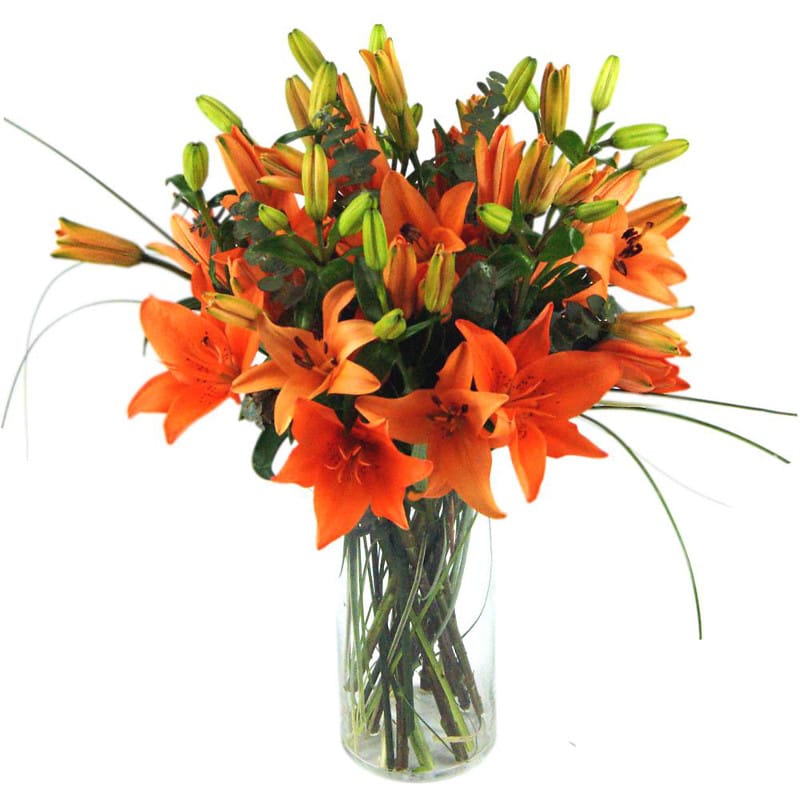 Tiger lilies are absolutely my favorite flowers, so much so that we named our first German Shepherd Dog after them:
If they must be roses, however, then my favorites are yellow.
Fun questionnaire this week, Crazy Sam! Thanks for doing this!