Welcome back! I nearly forgot it was Sunday! Link up here if you're playing along today.
~*~*~*~*~
What's the coolest item you've found at a garage sale, flea market, etc?
Mostly books, or toys for the kids when they were younger. I haven't gone garage-saling in years.

2. Describe how your day went yesterday.
Mostly today and yesterday, I'm a bump on a log. I've no energy to do much, and so I haven't done much.

3. Do you have issues with people entering your personal space? What do you do when your personal space is violated?
It didn't used to bother me as much as it does now that I'm ill. I can't handle it anymore, even from my own family. I just let people know they have got to move back.

4. What is the one meal recipe you think you've mastered?
I eat a lot of hummus, so I think I've got that one, among others, down pat!

5.  If you could take back something you did to someone, what would it be?
Probably some of the arguments that I've had with my kids, especially my eldest, now that she's a teenager...

6. Would you describe yourself as spiritual, religious, or something else?
I consider myself spiritual, more than religious.

7. Did you ever receive detention in school? What sort of kid were you in school – bookworm, smart kid, troublemaker, quiet … etc.
I was pretty quiet, a total bookworm and nerd. I had a lot of friends, though - across all the cliquish groups. I did get in-school detention once, for leaving early for lunch from chorus a few times in 8th grade. 

8. When's the last time you ran a mile? How often do you exercise?

I haven't run a mile since high school. My pulmonologist thinks I had undiagnosed asthma as a kid. With all my pain issues, it's hard for me to exercise, but when I do it's gentle yoga and/or walking, sometimes with Pilates. Not a lot.


9. What would you say to your 16-year-old self, and why?
I would tell myself to more strongly consider the schools where I had a full ride given to me, instead of the most expensive university in my short list. It may have given me far less anxiety over making tuition payments, for one thing.

10. What are you avoiding?
This, pretty much! haha! I have quit working with two therapists just since we've been here in Boise. To be fair, I have tried twice to set up a new therapist - #3 - but I haven't exactly followed through with my efforts.


11. Describe a "Hah! I told you so" moment you had recently.

I don't know. I can't really think of anything for this one.



12. What's more important, where you live or what you do for a living? Why?

Where you live, I think, is more important, but I'm probably in the minority. So much of a person's identity is wrapped up in what they do for a living, and I think it shouldn't be. Where you live, on the other hand, can bring so much interest and joy, depending on how much you participate in the culture of the place, and I think it can be fantastic.



13. Swear words: Are you pro or con? Why?
I'm neither. I do it, but I don't care either way if others do it or not. With one exception: my children, and others' kids. I feel like they shouldn't, and I reprimand my kids when they do. There is a time and a place, and being 12 years old is not, I feel, the time.

14. Paper or plastic? Do you prefer to pack your own groceries?
I use plastic when I don't have any, because we use them to clean the litter boxes, etc. I prefer paper to collect my newspapers and bring all my magazines to the library to donate (I get a ton!). I prefer to bring my own when I need neither, which is rare these days, unfortunately. And yes, I would rather pack my own groceries. I worked as a cashier and was well-trained on packing bags. These days, I feel it is a lost art. Very frustrating!

15. Do you have a shoe fetish? How often do you buy new shoes? Do you ever get rid of a pair of shoes?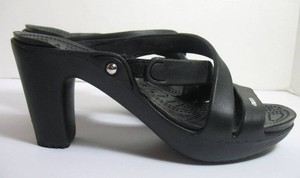 I don't have a shoe fetish; I just get what I need. I do admit I like my Crocs, and I have plenty of pairs of both casual and, yes, dressy Crocs (including a pair just like the ones above). They are comfortable, and I dress for comfort more than anything else, usually. I get rid of shoes when they are worn out or, more likely, our dog Tapi has eaten them!
~*~*~*~*~
Thanks for stopping by!
Fin.