Hey, guys! Thanks for coming back week after week to see the weird sh** I've written this time, or thanks for popping in if this is your first time! ;) I'm late as usual on Sunday Stealing. This time, it's because I had to take my daughter Sophia (aka "Foofie") to her showjumping lesson in Eagle, about 45 minutes away:
Sophia on Sunny
So anyway, let me get started, eh?
~*~*~*~*~
Have you ever had a movie both totally captivate and complete confuse you?
This happened to me the first time I watched Ocean's Eleven. I watched it at least three more times after that, which helped straighten things out for me. There is another, more recent, movie that I've watched that repeated this pattern, but I can't think of it now.

2. When watching a movie, do you prefer things all laid out or to have to 'hunt for your own clues' along the way?
Occasionally I don't mind a puzzle-piece, Easter egg type of hunt in a movie, but I generally don't prefer it.
3. Do you want an ultimate ending to your movie or do you prefer to have it open for conjecture and discussion.

I like both. Can I have it both ways? Or sometimes one way, sometimes the other? Tough, I'm taking it.


4. Do you talk during a movie (preferably one in your home, not in the theater)?
I try to avoid it, and it drives me apesh*t when other people do it incessantly. (Ahem, I'm looking at you, Chloë!) ;)
5. Have you ever seen a blockbuster movie and not get what was so great about it?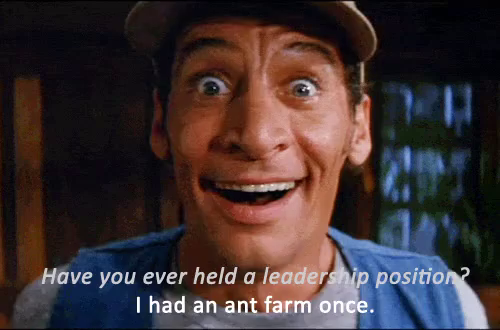 No. I don't think so, really. However, I will take this opportunity to rant one more time about this non-blockbuster (I think? I hope) franchise, the "Ernest Goes to ...XYZ." I saw the "Camp" one in North Carolina when I was about 12 or 13, with my sisters, and ugh. It was "Oh, my God" stupid. I'm sorry, but there are plenty of movies in the "stupid humor" category (Hi, Chris Farley! Hi, David Spade! Hi Adam Sandler!), and it's just not my genre. So I guess yes, after all, haha. All the "dumb movies" that appeal to the baser elements of society just do not interest me at all."
6. What book frightened you as a young person?
Stephen King's The Shining  scared the crap out of me as a kid. I tried several times to read it, but I kept closing my eyes at the scary bits and really, that's counterproductive when reading.
7. If you had to become a 'living book (i.e. able to recite the contents of a book cover to cover upon request – reference Fahrenheit 451), what book would it be?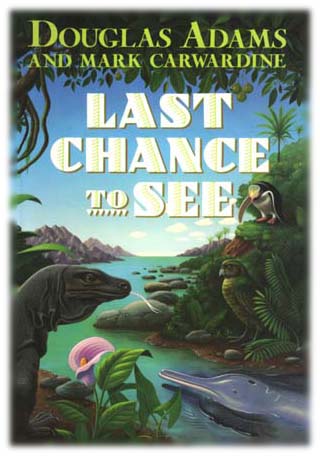 I really had to think about this one, because there aren't many I could or would want to memorize at this current stage in my life, but then my mind landed on one: Last Chance to See by Douglas Adams (and Mark Carwardine). Love this book so much. I've read it half a dozen times. It's worth a gander.
8. What movie or TV show scared you as a kid?
Aside from all the Freddy Kreuger movies I was "forced" to see, that would be Children of the Corn. My unthinking father put it on, kind of as a babysitter, for both my sister and me verrrrry shortly after our mom died. I was seven years old. Poor choice, Dad. One of hundreds, though.
9. What movie (scary or otherwise) will you never ever watch?
I have never watched and never will watch Poltergeist. No, thanks.
10. Do you have any phobias?
I mean, sure, who doesn't? My phobias include touching mustard, hearing sandpaper, and rubbing fabric. Eek!
11. What's the happiest thing to ever happen to you?
This guy! Pretty fond of the doggos, too.
12. What's the saddest thing to ever happen to you?
When my mother died very suddenly and inexplicably at the age of 33 - when I was 7½  - I thought there wasn't a whole lot in the world that could make me any sadder than that. And not very much still can. But when our son Robby died after a 3-day struggle in the NICU - when I was 26 - I found I was wrong. It's just not the natural order of things. Parents are not supposed to outlive their children. Parents are not supposed to bury their babies. It's just wrong.
13. What's the thing that got you the most angry in your life?
Oh. This was when I was 17, and about to graduate high school and move to South Carolina to live with my dad for the summer before heading to college in Miami. My lovely (read: sarcasm) stepmother had informed me in about March or April that I needed to condense the entirety of my belongings to what I could fit into my rather small Ford Escort Wagon, because it would all go in there. So I spent the next several whiles selling off all of my (very nice) matching furniture, including my bed and headboard, my dresser, its mirror, my desk, and its bookcase. I also sold various knickknacks and thingamabobs - anything for which I could get money, to which I was still quite attached (some, anywho). Stepmother also hadn't allowed me to have my dad's phone number, and email wasn't really a thing then, so I had no contact whatsoever with my dad for months on end after he ahem abandoned me ahem in December of that school year...
So when Dad showed up with a big Uhaul truck to move me and all my belongings to South Carolina with him the day after graduation ceremony, I absolutely saw red. I was beyond furious with her. She pulled shit like that all the time, but I sold things that meant something to me, and she probably just sat in room and cackled over her evil plan. Bitch. I had so much adrenaline from that incident that I could lift up and move heavy things I otherwise could not have from the driveway into the garage, out of the rain that started, and then I powerwalked several miles away to the family for whom I babysat routinely, sobbing angrily the whole way. The only thing that calmed me was knowing I was about to be away from her and rid of her evil ways for good.
14. What's the most frightening thing to ever happen to you?
So I don't really want to talk about the actual thing(s), so I'll go with riding in the back of the Pirate Ship ride at Darien Lake Amusement Park or any given fair. I don't like to be scared on rides. I hate it. But my three older sisters often insisted I join them on rides (I put my foot down on roller coasters; not an easy thing at the time!), including the dang Pirate Ship. But not in the middle, oh noooo. Always at the back of either side so that the slope of our descent was the steepest.  And scariest for chickeny-chicken me. Eckkkk. I hated it. Still kinda do!
15. What's the most unbelievable thing to happen to you in your life?
So many things! But I think the biggest shocker for me was when I spent a year kind of "auditioning" to work on my Ph.D. in Dr. Phil Motta's lab at the University of South Florida in Tampa, and then finally, I got a letter from Dr. Motta that I got in!! I got in! I literally gained 50 lbs and about 2-3 ulcers stressing over that the previous year, and then I was accepted. Oh, my gosh, I was in a campus computer lab when I found out, and I screeched and squealed right in the middle of the lab. And I didn't care at all, because WHOOOOO! I was so surprised, even though I'd worked my whole life up 'til then for that very moment. Excited was not the word!!
~*~*~*~*~
Well that was fun. I think I started this about 4-5 hours ago, but I've been interrupted so many times in the process. Oops! Still Sunday here, though, so it counts. ;) Thanks for the fun post, Bev! ;)
Fin.