Hey everybody! I'm gracing y'all with my presence on my 42nd birthday - and my older daughter Chloë's 17th - so here I am wondering where all this time has gone. I'm eager to jump in and get started. Link up here if you're playing along today!
~*~*~*~*~
Saturday 9: Gotta Travel On (1959)

Unfamiliar with this week's tune? Hear it here.

1) In this song, the Billy Grammer sings that "summer's almost gone, winter's coming on." When you look out your window, do you see any evidence that the seasons are changing?
See? Not really, but I guess there are signs downtown here in the City of Trees. But now that were down to temperatures (at least overnight) in the 60s instead of the 100s, it's definitely feeling more like Autumn. wahhh!

2) He admits he has laid around and played around for too long. Do you consider lazy days to be wasted days?
On the one hand yes, because I have always felt the need to be busy, busy, busy. But on the other hand, no, because I think my inability to (learn to) relax has significantly contributed to many of my health issues.

3) Billy relaxed by fishing. Tell us about a visit you made to a pier, or a ride you took on a boat, this past year. (Bonus points if you went fishing!)

Well, we haven't done any boating or fishing yet here in Idaho, but we have made this area, Lucky Peak State Park, our official destination for our Seton Spots this school year. We go twice a month, usually, for nature journaling and observations. The kids seem to be really into it!
4) Born in 1925, Mr. Grammer was the eldest of 13 children. He and his wife Ruth were childless. What do you think is the ideal size for a family?
 Ideally, I think that there should be a 1:1 replacement of adults by their children. In other words, each couple should have or adopt no more than two children. That being said, many people (us included) end up having more than two in our family to feel complete, while some others feel that having zero children is what's right for them. But overall, the ultimate goal for the planet should be population reduction.

5) This song was very popular on jukeboxes back in 1959. When were you last in a bar or restaurant that had a jukebox? Did you play it?
I grew up with a jukebox and a dance floor in our finished basement, but I think really the last time I was in a restaurant with one was in August 2014, at the B'ville Diner in Baldwinsville, New York. I was there for my 20th high school reunion.

6) In 1959, movie tickets zoomed up in price to $1.00 and Ben Hur was the big blockbuster. What's the last movie you saw in a theater? Do you remember how much the ticket cost?
The last movie we saw in the theater was The Incredibles 2, and the price was FREE! Our kids' orthodontist rented the theater for all their patients/clients.

7) Huckleberry Hound was a hit with the younger audience in 1959. What cartoon did you enjoy as a kid?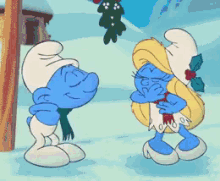 I think mine was probably the Smurfs.

8) In 1959, continuing dramas (soap operas) were still broadcast each day on the radio. When you turn on the radio, do you listen for talk, news, or music?
I listen for music. Anything I can sing along to is great. Right now I'm digging on "Have It All" by Jason Mraz. Love it!

9) Random question -- Which competition would you rather judge: The Pillsbury Bake Off, The Miss America Pageant, or Dancing with the Stars? 
I think I'd most like to judge Dancing With the Stars, simply because that's really what I enjoy most.
~*~*~*~*~
Time to get back to work! Thanks for paying me a visit.
Fin.