Hey kids, what are we all talking about in here? Can I join?
Well, if you came to read Sunday Stealing, you've come to the right place. Aaaaand... because I forgot what day it was yesterday, Saturday 9 is here, too. I've missed a couple weeks, I think.
We've had a lot of wildfires this summer, and my asthma was horiblé. Now that weather conditions have improved, I'm breathing easier again. (Rob totally brought me to the ER because I couldn't breathe and thought I had pneumonia, but it was an asthma attack! I felt so dumb. But in my defense, something I've had my whole life didn't get properly diagnosed until last year!)
Time to get started with this week's Saturday 9.
~*~*~*~*~
She Works Hard for the Money (1983) 

Unfamiliar with this week's tune? Hear it here.

1) This song is about a woman who works hard as a waitress. What's the hardest job you've ever had?
After thinking about this for a minute, I'd have to say teaching freshman biology while I was working on my PhD at USF. That was really the first time I truly had to confront my weaknesses in academia. I found out quickly that teaching was hard. Like, hard hard. It was a totally new kind of challenge for me.

2) The lyrics tell us she has worked at this job for 28 years. What's the longest you stayed with one employer?
Other than motherhood (It'll be 17 years this Friday!), it would have to be working at various Publix supermarkets in Florida. Three different ones: in Coral Gables, in St. Petersburg, and then again in Panama City Beach. I liked it more than teaching! Heh.

3) Donna Summer was inspired to write this song during an awards show. She ducked into the bathroom and met the elderly ladies' room attendant, whose job it was to make sure the room the spotless, the complimentary hairspray and moisturizer was abundant, and there was a hot towel for every celebrity who used the facilities. "Wow," Donna thought, "she works hard for those tips." Who is the last person you tipped?
I feel like it's been kind of a while. Maybe it was the pizza delivery guy from Pie Hole? I think so. We'll go with that.
4) Early in her career, Donna was in the touring company of the musical Hair. It played in Munich for so long that she became fluent in German. What's the longest you have ever lived away from home?
Well, that's hard to say. I've never had a home that I've wanted to go back to after I left! I have no parents' house to return to when I'm sad or down and out or anything, so... I guess I'll use this concept a little loosely. When Rob and I got married, and Chloë was a wee babe, we moved to Guam for four months. Just four months!
  
5) Sam's dad is naturally outgoing and enjoys striking up conversations with waitresses, librarians, the checker at the supermarket, etc. Sam is always polite but more private. Are you more like father or daughter?
Look at this guy, blowing a kiss! That's actually his Facebook profile picture! That's my dad. He strikes up conversations with everybody, too - and this lecherous old man also flirts - hard - with any cute young thing. Ugh. I'm an extroverted (but not much) introvert, so I'm more like daughter.

6) A little more than 10% of the American workforce is self-employed. Have you ever been your own boss?
I've done various things over the years. Like... back when we lived in Virginia Beach, I had a dessert business. However, I quickly learned that rather than something like this:
I'm better at smaller desserts more like this:
And now I want to make some petit fours! Too bad I sold off almost all of my baking tools when we moved to Miami and becoming broke was no joke!
7) Labor Day weekend may offer a golden opportunity for napping and sleeping in. Do you snore?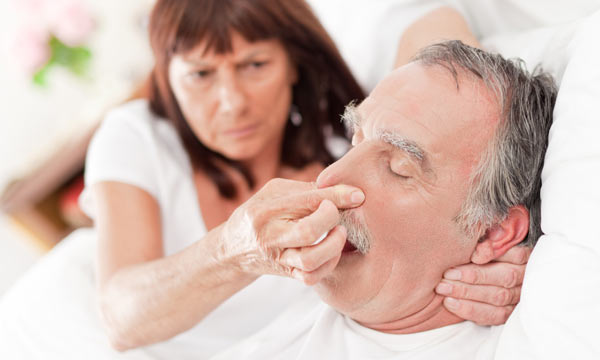 I love how it's always the women complaining about their husbands snoring! Why is that a thing? LOL... Yes, I snore; my hubs rarely does!
8) Will you be attending a Labor Day picnic or barbecue?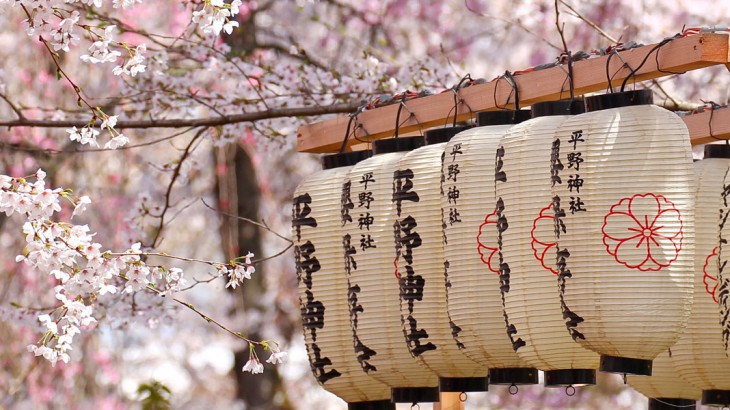 Y'know, I don't think so? But we will be going down to celebrate Japan Day at the local Basque Center (just trust me), so that will be fun. I hadn't even thought about what to do after that!
9) Labor Day traditionally marks the beginning of the fall. Will you be adding any new fall clothes to your wardrobe?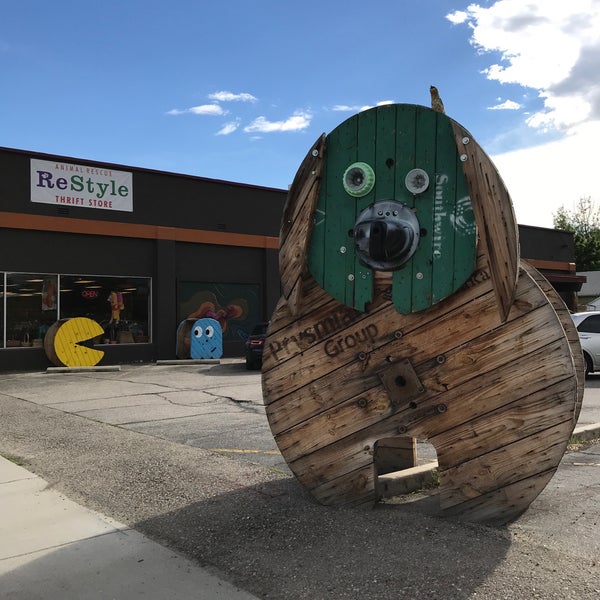 I'm sure I will. Every season we all (except Jack; he just wants me to pick out his clothes for him) go to the local ReStyle Animal Rescue Thrift Store. It's like this: they have a punch card. For every 5 donations AND 5 $10 in purchases, you get 50% off your entire next order. And every day, their great quality but already-low prices go even further down, with a different color tag being some percentage off for that day. And on top of that, we get a military discount! So I the girls shop 'til we drop and then come home and show the boys our goods. It's fun!
~*~*~*~*~
Well that was a good one, Sam! Thanks for the fun! I've been distracted by watching Chip and Joanna Gaines on Fixer Upper this morning. I'm very new (like, as of this summer) to their show, but it didn't take long for me to fall in love with them! He's so cute to her.
Anyway.
Time for some Sunday Stealing, which this week is oddly named Freaky Poptart! (Click the links to see other players' answers.)
~*~*~*~*~
What is one thing that you would change about yourself if you could? There is not a lot about me I'd keep! I'm not my own biggest fan. But I would definitely change my temper. I'd love to be more mild-mannered than I am.
Name three exotic countries you would like to visit:
I would visit Japan, Australia, and Argentina! Oh, hell, I'll go anywhere 'long as you're buyin'!
What do you think the secret to life is?
I think the secret really is that you have to bring joy to others. The more joy you give out, the more joy that ;,; ,mcomes back to you. It's the good kind of vicious-cycle. I try to develop that sense of joy in each of my kids. (Although it's pretty hard for Jack.)

Best concert: 
I'd have to say it was the Bob Dylan * John Mellencamp * Willie Nelson concert at the Norfolk Tides' baseball field back in Virginia. Bob Dylan is a huge favorite of Rob's, and he really wanted to go see them play. I was so thrilled to be able to take him, and he had a great time. I even liked their opening act, The Wiyos!
Song you can listen to over and over and not get tired of: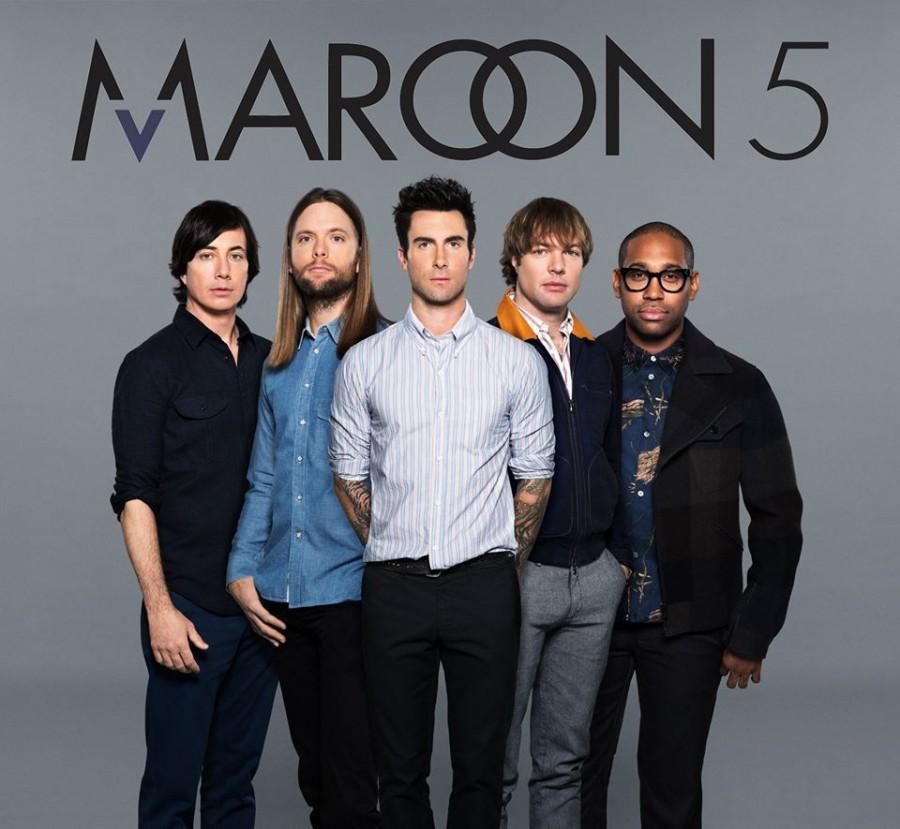 That changes all the time, but lately it has been "Girls Like You" by Maroon 5; I even like the Cardi B bit, and I'm not a huge Cardi B fan. It's catchy!
Worst movie music soundtrack or score: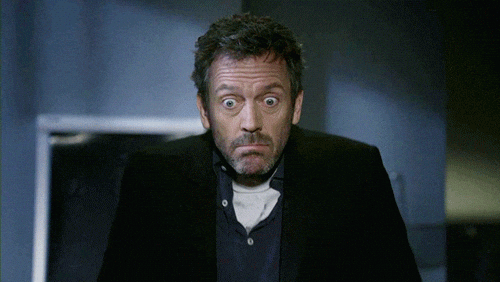 My mind is a blank on this one.
A song you wish wouldn't get stuck in your head but always does: 
Have you heard the Wayfair jingle on their commercials? There's a ton of them every commercial break on HGTV, it's so annoying... but also catchy.
Who was your FIRST date?
It was this guy, Ken, who was a year ahead of me in school. We went to the movies. I don't remember what we saw. Soon after that, we met up at this mall near my house, which was a total ghost town by that point... my first kiss. Now I know he is the biggest a-hole, but eh. You gotta know what bad is before you can realize how good good is, right?
 And Rob is GOOD. 
Do you still talk to your FIRST love?
Yeah, Ben and I are still Facebook friends... although I guess I've been asleep at that wheel, because it appears he just got married?!! I'm so shocked!
What was your FIRST alcoholic drink?
In my Senior year of high school, my older friends from work used to take me out a lot wherever they went - including to bars. I mean, I was only 17, so their trick was to get me drunk on shots of Goldschläger at one of their homes before going out to drink some more. We had a lot of fun times, and we made a lot of memories, but I obviously don't recommend that! I have more than one Goldschläger story. So, I don't like the smell of cinnamon much anymore! 
What was your FIRST job?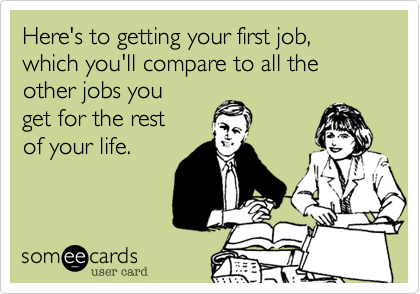 I did a lot of babysitting first, but my first actual paycheck was from BigM market in Baldwinsville, New York. Fun times; I loved it and, for a while, my best friend Lisa worked in the deli while I ran the cash register. (I've worked in a lot of grocery stores! Winn-Dixie, too, in South Carolina - oh and also, for two days, Fred Meyer here in Boise!)
What was your FIRST car?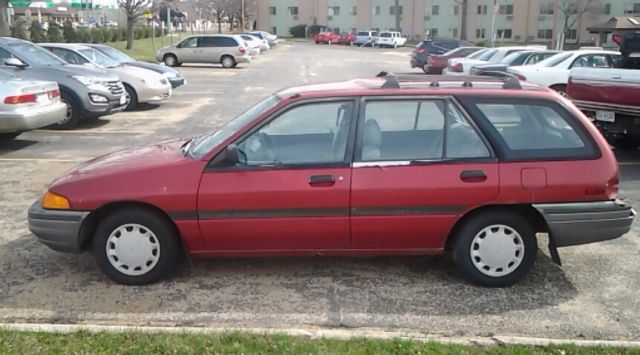 This picture almost makes me cry. I bought a red 1991 Ford Escort wagon in September 1993, when I was starting Senior year. My father basically stole it from me. It's not a happy memory.
Where did you go on your FIRST ride on an airplane?
Hm. I've been flying since birth practically, so I don't even really know! When we moved to Syracuse from Monroe, New York, we started flying back and forth to my mom's parents in New Jersey a lot. But I think we I had to have flown since I was knee-high to a grasshopper.
Who was your FIRST best friend & do you still talk?
My first two best friends were my sister Stacey our babysitter's daughter, Ursula. This is my sister with her (now about grown) daughters:
and this is my friend Ursula with her beautiful family:
And yes, I still talk to both.
Whose wedding did you attend the FIRST time?
It was my dad's to his new (now ex-) wife a year after my mother died. (They started dating three months after Mom died, and he still says my mom was his real true love, etc. Right, right.) My dress was pink; I think Stacey's was peach, Aarin (younger step-sister) had a blue one, and Mindy (older step-sister) wore purple. All matching but different pastel colors. Gag me. (Maybe that's why I hate pastel so much!)
Tell us about your FIRST roommate.
That would be Jen from Rochester, when we were freshman dorm-mates at the University of Miami. We hit it off right away and had a lot of fun. We are not still friends.
If you had one wish, what would it be (other than more wishes)?
I wish I didn't have to live in a world where my neighbors didn't keep taking the COEXIST sticker off my car! Because, y'know, they're the people that need to read it and heed it. (And then I wish we had a house of our own, again.)
What is something you would learn if you had the chance?
The girls and I are learning Latin together this year. I thought I would have a disadvantage over them because of speaking Spanish, but I really don't! In fact, Chloe is beating both of us, and Sophie is neck-and-neck with me. If I could, I would learn every language spoken in this world.
Did you marry the FIRST person you were in love with?
Nope, I married this dork:
 He's so cheerful!
What were the first lessons you ever took and why?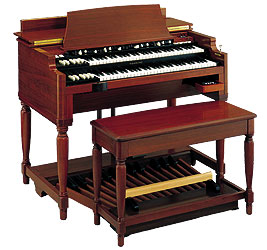 These probably weren't my first lessons but the first ones I remember. After my mom died, she left her electric organ, like this one, behind. I couldn't bear to see it and let it just go to waste, so to help me keep my mother alive in my heart, I begged my dad to let me take lessons and use it. I did for a couple of years, but I never got terribly good at it. Then my stepmother came along, decided she didn't want it around anymore, and bought a sleek baby grand piano to put there instead. And she couldn't even play! F**k her.
What is the first thing you do when you get home? 
The first thing I do when I walk in is hang up my keys on "the fish." See that arrow? Same thing, every time. On the other hand, when Rob drives, he never hangs up the keys, and they are often missing after that. Also, that fish is supposed to be for keys. Not multiple baseball hats, not multiple dog leashes, but keys. Although now that I have one of my girls' leis from Boise Pride hanging on my hook, I guess I can't say too much!
~*~*~*~*~
Ahhh, finally done. That was fun, but because I'm distracted by Fixer Upper, it's taken me forever! Man, I wish we could afford a fixer upper. And Chip and Joanna Gaines, of course.
P.S. 
Shout out of thanks! It was so unexpected when something from our daughter's Amazon wishlist, for her spendy Art program this year, showed up in the mail from you! I was moved to tears, so touched I was. Sophia was shocked, too. Thank you so much for doing that! Our fundraiser has kind of stalled out at $50 donated, and we still have several supplies and about $200 for the course left to go, so we were absolutely grateful for the help. You know who you are - you rock!
Fin.