Hey, hey, what do you say? Welcome back! Link up here if you want to join up with the rest of the Sat9'ers today!
~*~*~*~*~
Saturday 9: Sweet City Woman (1971)

Unfamiliar with this week's tune? Hear it here.


1) The lyrics tell us the singer is on his way to catch a train and he really wants to be on time. When is the last time you were late for something?
Between picking up Chloë from work, getting Jack to work, I was a few minutes late to my latest therapy session on Thursday. Fortunately, her last session runneth over, so no one was the wiser when I snuck in a few minutes past the hour.
2) He sings he's on his way to meet a woman known for her macaroons. What's your favorite cookie?
I'm simple. I like a good chocolate chip cookie.

3) His girlfriend's face is so pretty she lights up the city night. How many lights are in the room you're in? How many are switched on?
There are probably a dozen, and as wasteful as it is, they're all on. My brain doesn't get the signal that there is light, and unless things are super bright, I have a lot of trouble seeing what's right in front of me. It's a huge pain in the ass.
4) This is the rare top 40 tune that prominently features a banjo. Sam has always been crazy about the sound of a banjo. What sound makes you smile? (It doesn't have to be a musical instrument. Think bacon sizzling, church bells, etc.)
Intellectual humor that makes me want to laugh even when I'm pissed off about something (I'm looking at you for all of the above, Hubs)

5) 47 years after their record was a hit, The Stampeders still tour every summer, playing festivals across the US and their native Canada. Do you enjoy live music under the stars? Or would you prefer to be seated in a theater?
I love live music! Just wish I could get out more to enjoy it!

6) In 1971, when this song was popular on the radio, detective shows were popular on TV. Mannix, Ironside and Cannon were all in the Top 20. Who is your favorite TV detective?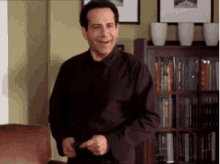 Adrian Monk!

7) Also in 1971, the Post Office Department was disbanded as a Cabinet department and became The United States Postal Service. When did you last go to the post office? Were you mailing something? Buying stamps? Picking up a package? Renewing your passport? 
I drop off something to mail from time to time, but even last time I bought my two books of stamps, it was online. I get more choices that way, y'see. But that reminds me, I need to initiate the process of getting Chloë's passport in time for her mission trip to Guatemala next summer!

8) Race car legend Jeff Gordon was born in 1971. Do you watch NASCAR?
In case you didn't catch that, my answer was "oh hell naw."

9) Random question -- Do you have a vaccination scar? If so, where is it?
No, I don't have any vaccine scars, because I never received any vaccines as a kid (thanks to being raised in the cult that is Christian Science). My new primary care doctor started giving me my childhood vaccines this month, at the age of 42. I'm scheduled to get my whooping cough and polio vaccines for the first time next week. It's an odd feeling, but a relief. Someone finally cares.
~*~*~*~*~
Glad y'all stopped by.
Fin.