Happy New Year 2019, fellow thieves! I'm late now, because I tried to post early (when I had time), and the post wasn't up yet. Please forgive me! Link up here if you're playing along today, y'all!
~*~*~*~*~
1. Are you filled with joy today?
I just woke up at 1 PM, and only then because my husband woke me up to take my morning pills. Oops! But so far, I have no reason not to be filled with joy, so yeah! Sure!
2. Has it been a rough week?
Some of it has definitely been easier than others. But I'm still plodding along, hoping to get better instead of continually worse!
3. If given the opportunity, would you like to star in a musical?
I was the caterpillar in Alice the Wonderland in 5th grade, and I stole the show! (Not even lyin', it's because of the kick-ass costume my otherwise-evil stepmother handmade for me.) But I've always wanted to belt it out on a stage production of Annie. Maybe not even as Annie! Maybe as Molly!
4. Name one person you'd take a bullet for.
♥

Robert Allen Odette, my husband of 18 years and four days!

♥
5. Did you trip over anything today?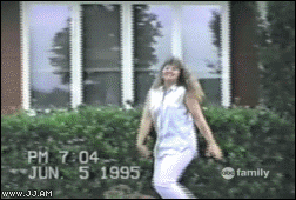 Not yet... but give me time!
6. Last time you painted a picture?
Oh, years and years. I'm horrible at painting. Chloë and I bought a Groupon to go out and do a Paint Nite thing together, but it was awful and disorganized, so we left early.
7. Is your favorite color yellow?

I don't hate it, but no, it's about the fourth shade to the right.
8. Were you born in a hospital? Do you know the name of the person that delivered you?
Yes, surprisingly enough, since I never spent a day of my childhood other than that in a doctor's office or hospital, I was born in one. This one: Arden Hill Hospital in Goshen, New York.
9. Have you ever had a friend or relative who was incarcerated?
Not that I know of, no.
10. Do you enjoy romantic movies, even when they're cliché?
Yeah, I do. Am I such a girl? I don't even care; they're fun and easy to digest. (BTW, I loved this "Thriller" part of

13 Going on 30

, with Jennifer Garner.)
11. Would you rather watch a movie or listen to music?
Either one, depending on what I'm also doing at the same time (because it's never just one thing). After 17+ years of motherhood, though, I'm not one of those moms who revels in peace and quiet. I hate it!
12. Ever been to Rhode Island?
Not yet!
13. Can you tell the difference between a Scottish & an Irish accent?
If I said I wasn't too shabby at it, and then was tested, I'd probably fail every time!
14. Can you read music?
I'm not going to lie: that is one thing at which I'm really horrible. I've taken organ/keyboarding/piano lessons. I've sung in several choirs. I've taken years of voice lessons. I've been in the selected women's choir. I've studied music theory. I've been chosen to audition for All-County Choir and NYSSMA (back in high school)... and yet I feel like it's just something I have a learning disability for, or something. It doesn't come naturally to me. Sight-reading, singing solfeggio, during those auditions, was so challenging for me. It's always been very frustrating. One of my very best lifelong friends, Shana Marie, is a violist/violinist, a high school music teacher, gives music lessons at home, can probably play every single instrument ever invented, and has performed in concert with some very famous names. Now she can read some music!
15. Have you been to McDonald's in the past month?
Well, my son works there, so yeah - but only to bring him to work. I don't eat there. #vegan ;)
Speaking of eating vegan, I just finished a salad Hubs made for me, from a recipe in the book 

Vegan Cookbook for Beginners

. It calls for a cup of halved cherry tomatoes. I have never liked raw tomatoes in my whole life, but I find myself loving them. There is just something about eating more healthy, I think, that makes you just want to do more of it!
I hope 2019 is off to a good start for all of you! Cheers.