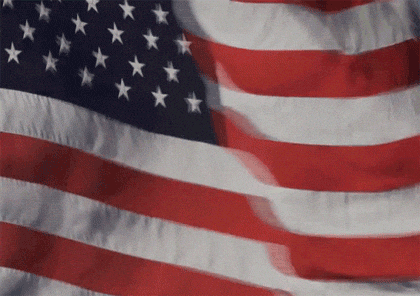 Happy weekend, everybody! I hope you've all a wonderful weekend. I'm glad you've found your way here, but if you'd like to see what all the other Sat9ers posted, please go here, too.
~*~*~*~*~
Saturday 9: God Bless America

Unfamiliar with Deanna Durbin's rendition of week's tune? Hear it here.

Memorial Day is the federal holiday designated to honor American service people who died in battle.
*
1) Memorial Day was introduced after the Civil War. Originally called Decoration Day, this is when memorials, as well as the graves of veterans, are to be decorated with flags and flowers on this day to show our appreciation. Is there a war memorial in your neighborhood?
So, not exactly in our neighborhood, but modeled after the Vietnam Memorial in D.C., Boise has Veterans Memorial Park. We haven't been there yet, but we've been to M.K. Nature Center right near it. Maybe on Monday, that park is where you'll find us.
2) Andrew Johnson, our 17th President, was in office the first time Memorial/Decoration Day was celebrated. Have you ever met one of our 45 Presidents? 
I have not. But I would not mind meeting President Obama, of any of them! Or Carter. I think I'd really hit it off with both of them. You know, once they got past my excessive chattiness and my neuroses!
3) According to the AAA, more than 30 million Americans will hit the road this weekend and drive more than 50 miles. Will you be traveling far from home this weekend? 


No, not really, because we're closing on this house on June 3rd. We really need to save our pennies for that!
4) Memorial Day kicks off the summer season. What's your favorite picnic food? 
Well, you know what, I couldn't decide between a beautiful, fresh fruit salad, or sandwiches. In the end, I decided to go with some delightful vegetarian finger sandwiches. I love finger sandwiches. Reminds me of the times I had high tea aboard a Princess Cruise while going through the Panama Canal. After we move, I think I've got to elevate our picnic game.
5) As you answer these questions, is there an air conditioner or fan on? 
I think either it's no to both, or the heat may be on low. I can't believe we're still using the heat when it's almost freakin' June! And I think there is still plenty of snow on the mountains. Why did you people let me move to Idaho?!!
6) Though she's belting out one of America's best loved patriotic songs, Deanna Durbin was born in Canada. Is there anyone in your family or circle of friends who wasn't born in the USA?
I have friends from all over. Some from living in the multi-cultural epicenter, Miami, for both college and then again from 2013-2017 with my family. Some from being a military wife - although none we've kept in touch with from our four short months in Guam, I do have many from the Philippines and, of course, more places. And yes a few Canadian friends are in the mix, plus some from all over the States. This friend, here, is my girl Kristal from Trinidad and Tobago. We met in Geology class at the University of Miami, where I basically was a class clown and learned to taste rocks and minerals to see if they were a salt, like halite, or something else. (Meanwhile, in every other science class I've had, the rule was: Don't put anything in your mouth!) Kristal eventually came to nickname me "Comic Relief," because we never got a lot done together but always had a ton of laughs.
7) No longer a household name, Ms. Durbin was once one of the biggest stars in the country. One of her most popular films was 1937's One Hundred Men and a Girl, which was nominated for a Best Picture Oscar. Recommend a movie that you really like, but don't think many Saturday 9ers have seen.
Hmm. Have y'all seen 

Hidden Figures

? Excellent movie. I took my daughters to see it in the theater in 2017, shortly before we moved here to Idaho, and it is one that imprints on the memory. Also, I've never seen

The Help

, though, but I just watched my first episode of the Snoop Dogg and Martha Stewart collab (I forget what the show is called, but it's that cooking show, y'know?), and Octavia Spencer guested on it. Long story short, now I think I'm going to watch

The Help

on Amazon Prime. (Happy birthday, Octavia! You're the same age as my husband!)
8) Back in 1938, Deanna Durbin had her handprints cemented in front of the TCL Chinese Theater on Hollywood Blvd. Have you ever visited that Los Angeles tourist attraction?
I have not. Yet. I've been in and out of L.A. a few times (above, in 2008, when my now-17yo daughter Chloë participated in an international acting convention and won several awards), and I've seen the Hollywood sign and the Walk of Fame... but I have not made it here yet. I always leave a "yet," because I decided as a young child that I wanted to visit everywhere in the world before I'm dead. Might have to live forever, though; it's a big world!
9) Random question: What food did you hate as a child, but enjoy now?
Artichokes! Avocados. Beans. Oh, my, it looks like I could go through the whole alphabet with vegetables, here. (It's amazing I've been a vegetarian, or vegan, or pescetarian at least, for over 23 years, seeing as vegetables were not very important to our family when I was growing up!) I have three artichokes in the fridge right now - huge ones! - that have gone brown on the tips. I completely forgot about them, dammit. I'm considering giving one a go right now... but it's 6:18 AM here. Would you?
~*~*~*~*~
Thank you guys for stopping by. I love it when you do. Have a good weekend. A safe weekend. But most importantly, if you're American, please stop and remember those who fought and died while in the military while you're picnicking, swimming, and enjoying the unofficial start to Summer. ✌️