Hey there, hi there, ho there! Welcome back!
(Let me preface this post by saying I've been gone all day long and haven't had a chance even to see if I have comments - negative or otherwise - on my Sat9 post from yesterday, let alone read them. So I can't answer to those except to say that I'm nervous to read them & truly hope y'all don't hate me.)
So, then. Just gonna jump on into this SS post at the stroke of midnight on Sunday the 14th of July, 2019, and get back to that later. (I'll be gone all day Sunday, too, so I'm not ignoring y'all.) Link up here if you're playing along this weekend!
~*~*~*~*~
Questions from Sad Sleepy Survey Rambles

Have you ever been teased because of the things you like?
Sure, of course. Education was always my passion, and in the regular-ed, non-Honors/AP classes, I stood out and got stomped on in return. I'm a math nerd. I listen excessively to pop music (although, ahem, not only pop music, nor just current music, but also classic rock, folk music, some punk, lots of alternative, some big band - and I love JP Sousa - as well as gasp classical. As in, not even from last century, let alone this millenium. I don't only listen to "current" music. So, um, yeah... side eye ) I've been called a "such a grandma" for knitting. (Like that's an insult?!) and so on...
Do you hold grudges?
I'm pretty forgiving if the person genuinely expresses remorse for any wrongs. Likewise, I'm quick to apologize when I realize I've committed some wrong(s).

Were there any classes you enjoyed because of the teacher?
Absolutely. Many of them, actually. In my senior year of high school, my AP Physics teacher was constantly making it entertaining, which was great for me because this particular field of science is most challenging for me. I just don't have a good understanding of spacial relationships, for one thing. And speaking of physics, my Physics II professor at university used to write "WAEFRTGDD" on the chalkboard/whiteboard during each lab and exam. Before starting, he'd point to each letter and remind us, "When All Else Fails, Read The __ __ Directions!" Cracked me up.
Was there a dress code at your school?
No. Which reminds me, I have to find out if there's a dress code at the younger two kids' new high school.

Have you ever been a bad friend?
Yeah...

Has a friend ever replaced you with somebody else?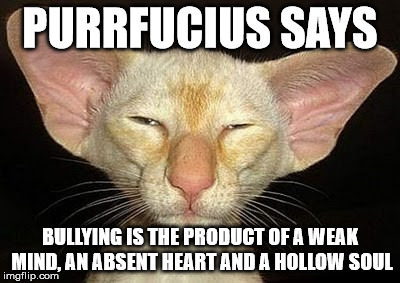 Yeah, but you know, you've gotta grow up and get past that stuff at some point.

Have you ever disliked something just because it was popular?
Mm-hmm. For instance, I have a bunch of piercings but never did my bellybutton because everybody was piercing their navels for a while and just... I don't like to be trendy. Now that everyone and their brother has their nostril pierced, I'm glad I've got the septum done, too. What next?
I much prefer belly necklaces, but I definitely don't have the body for that!

Have you ever watched a movie just because it starred an actor you liked?
Probably, sure. I think I even saw 

The Rainmaker

in the theater. #BecauseMattDamon

Are there actors/musicians you have met?
Well, I mean, sure. I know some. My daughter Chloë is an actor and model and has starred in movies, TV shows, commercials, print ads, stock photos... And one of my best friends is a concert violinist. =) (I'm still so jealous she played first chair for Josh Groban!)

Do you ever judge people based on the music they listen to?
Eh, not really, although I might judge the "music" itself - death metal?!

What about your top five music albums?
Uh, what about it?

Do you remember the first album you ever owned?
LOL... I can't promise it wasn't Milli Vanilli! But one of the first albums that I've owned that became an instant favorite and has remained so for 25+ years was Eric Clapton Unplugged. He's my boyfriend, but he doesn't know it. So is Larry David. (Neither of whom is my generation. Y'know?)

Do you still use an mp3 player, or just your phone?
I actually forgot I ever even owned an MP3 player. How did you know?

Do you like Elton John?
Most of his music, I love, and I guess I like him okay as a human? But I wouldn't really miss a few of his songs, like Crocodile Rock, Bennie & The Jets, and maybe Rocket Man? I don't know why; I just don't enjoy those ditties as much.
Have any celebrity deaths hit you hard? Which one(s)?
A few, like Michael Jackson, Whitney Houston, Prince, etc. were really hard for me, Luke Perry I guess, but none hit me anywhere near as much as the death of Princess Diana in 1997. That still affects me to this day. #PTSD
And now, it seems I'm on an Elton John kick. What's next for me, Billy Joel?
I wish you all a good week. I know I ruffled a few feathers this weekend, and mine were tousled in return, but I do hope there's no bad blood among any of us.