Welcome back & happy Valentine's Day, my lovelies! I haven't had a lot of energy lately, so I've missed a week or two. I just knew Crazy Sam would have some great questions up her sleeve for us this week, so I've made the effort to join. I know you're all so glad.
Link up here if you're joining in this weekend! And away we go...
~*~*~*~*~
Saturday 9: Secret Valentine (2008)

In honor of Valentine's Day. Unfamiliar with this week's tune? Hear it here.
 
1) The lyrics talk about a song that's so romantic it "turns out the lights." Are the lights on in the room you're in right now?


They are. Somewhere along the way (back in Miami), I developed a problem where my brain stopped perceiving light properly. Combine that with my lifelong fear of the dark and, well, there are currently four lights on in here.
2) In the video, our heroine's Valentine's Day adventure begins with a note slipped into her pocket. What's in your pocket right now?
I'm not currently wearing anything with pockets.

3) This week's band, We the Kings, are proud sons of the state of Florida. Bradenton, to be exact. They even called one of their CDs Sunshine State of Mind. Have you ever been to Florida? If so, where have you visited?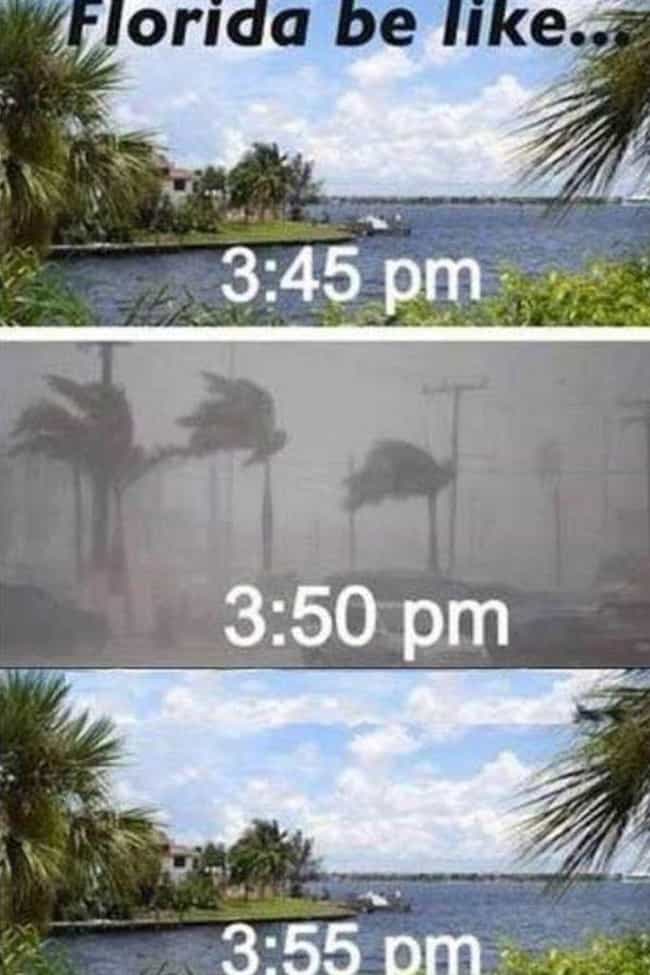 This meme is actually really accurate, at least for Southern Florida. I lived in Florida from 1994 to 2002, and again from 2013 to 2017. I love Florida, as whackadoodle as it is. I've lived in Coral Gables, South Miami, Homestead, Sarasota, Tampa, St. Pete, Panama City, and Panama City Beach. Forget listing all the additional places I've visited! LOL

4) Lead singer Travis Clark has a pierced lip but doesn't always wear a lip ring. Do you have any piercings? If yes, are you wearing jewelry in your piercing(s) right now?
Some yes, and some yes! (I just had to feel around to see what I'm wearing!) I have the rings in my septum and right nostril right now. There's the ring in my right tragus. And there's a ring up high in my left (ear) cuff currently. I also have four piercings in each lobe, but I don't usually put earring in those unless I'm going out, since there's far less risk of those closing up on me if they go empty. I don't have any other piercings. Yet. ;)

5) The band's name comes from a cheer they did when they attended Martha B. King High School. Have you attended your high school reunion?
Yup! This is part of us, in Baldwinsville, New York, at my 20th reunion in 2014 (when & where I also got Lyme disease). We were also there for my 10th, when I was pregnant with Sophia (our youngest). Can ya find me?

6) Hearts are the symbol of Valentine's Day, so here's a little heart trivia: whales have largest heart of any animal. When we say a person is "big hearted," it means we think of them as generous. Think about the people in your life. Who would you describe as big hearted?
Hands-down, that would be my immensely (musically) talented and equally generous friends, Shana (here with her husband). She has truly done so much for me over the many years that I've known her. I love her.

7) It's estimated that 9 million people buy Valentine's Day presents for their dogs and cats. Have you ever purchased a holiday gift for a pet?
Yeah, but not a Valentine. Often for Christmas! Who doesn't?

8) Valentines to teachers are also big sellers. Did you ever have a crush on one of your instructors?
Yup, definitely! Not saying who!

9) With the popularity of e-cards, fewer Valentine messages are sent via the USPS. What's the most recent thing you dropped into a mailbox?
(This picture cracked me up. Obviously, I am easily entertained.)
It was either a bill - WHY does everyone not allow online bill pay in 2020?!?! - or a postcard to my friend Erin, who collects them. I have sent her tons.
~*~*~*~*~
Thank you all for the visit. I hope you have a lovely weekend!
Fin.