Hello there, ladies and gents! I hope you are all staying healthy and sane in these strange and dangerous days. If not, you're welcome to share with me so I can send up some prayers and/or send good juju your way!
Link up here to join the rest of us in some fun with Christopher Cross this weekend. I haven't heard this song in forever.
~*~*~*~*~
Saturday 9: All Right (1983)
 
Unfamiliar with this week's tune? Hear it here.

1) This song has an optimistic message about love: "It gets tough sometimes, but you can give it one more try ..." Do you tend to take an optimistic look at life?
Yes. I've said on here a million times, I see the world through rose-colored glasses. I've trusted too much and been hopeful, and then gotten disappointed numerous times. But I still trust and am hopeful the next time. I have seen a more cynical side creeping in of late, and I just don't like it. Who wants to live in that negative, "everything is about someone's agenda" mentality? I do not. I'm the "count your blessings" type, too.

2) In this song, Christopher Cross sings, "Time and time again I see people so unsure like me ..." Tell us about a recent time when your confidence could have used a boost.
Well, on Monday, I had to have a Libre glucose monitor implanted in my arm for a fortnight. I was SO scared leading up to it. Chloë gave me her hand to squeeze, and I squeezed the hell out of her poor hand - for nothing. I literally did not feel a thing. Silly me! (I was like that with the picc line a few years ago, but that actually was painful and scary.)
3) The Doobie Brothers Michael McDonald plays on this record. Do you have a favorite Doobie Brothers song?
I had to run over to YouTube for a playlist to see if I had a clear favorite. From the titles, I couldn't decide, so I started playing them. It may be cliché, but when "Black Water" started, I knew that had to be it.
4) Though no longer making hits, Christopher Cross still has loyal fans who attend his concerts. Time permitting, he spends time after each show signing autographs. Have you ever asked a celebrity for his/her autograph?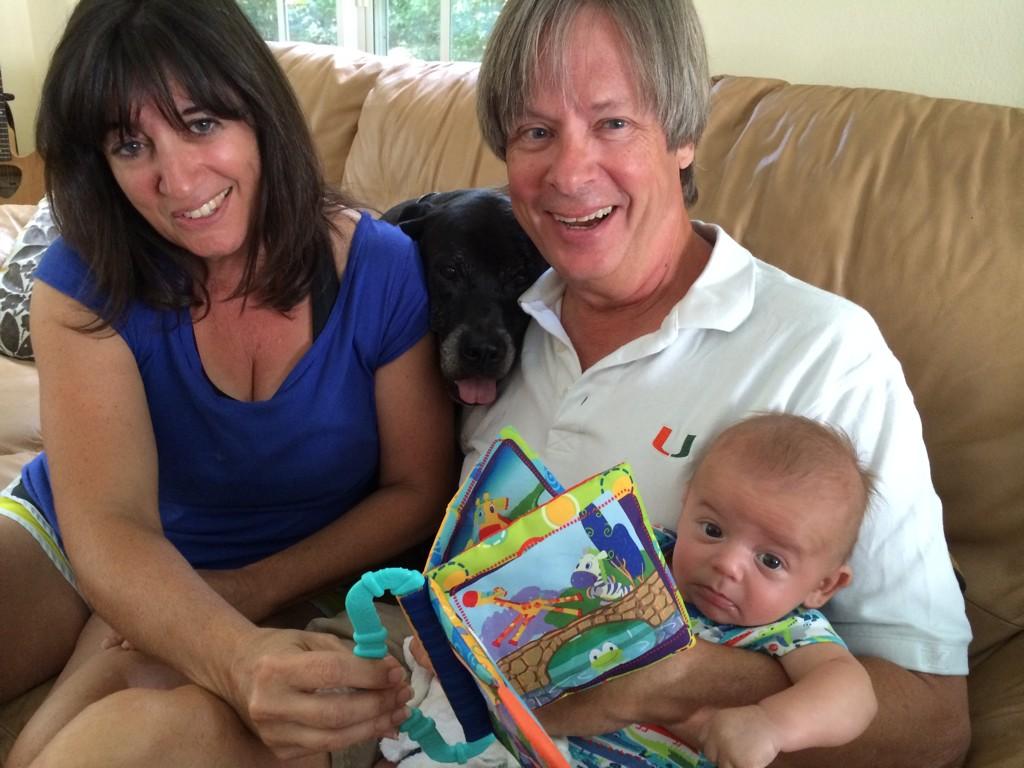 Regular visitors will know that I love Dave Barry and that he's easily the most famous person I've met. I know, we're not talking superstar insanity here, but he did (does? I'm not sure if he still does) write a syndicated humor column, write several books, and have a TV sitcom based on his life, so... Anyway, he used to come into the Publix where I worked in Coral Gables, Florida, while in college. (Please note that the "U" on his shirt is the reason I used this picture!) One time, he came in on a Sunday, and I spotted him when I went on break. I ran to buy a Sunday paper and found his column in the Miami Herald. I was extremely shy and nervous, so I kind of crept around the store after him and his wife Michelle, not wanting to intrude. Finally, they were stopped, browsing the chips aisle, when his wife looked at me and then said, "Dave, I think this girl would like to talk to you." I almost died, but I

5) Christopher Cross' dad was an Army doctor stationed at Walter Reed Army Hospital in Washington, DC. With all the museums and monuments, our nation's capital could be a great place for a kid to grow up ... except sometimes we take the advantages of our hometown for granted. Tell us about a nearby museum, park, theater, etc., you'll visit again when this period of crisis is over and it's agreed that it's safe to do so.
Well, I was looking forward to the Boise Greek Festival at the end of May, but I see it's been postponed to some as-yet-unknown future time. So I'll turn my attention toward the opening of our small town's city pool that same weekend and hope that date keeps! I'm looking forward to denying my numerous health issues the opportunity to keep me homebound this summer - and the rest of my life, really - and just making the most of every day!
6) In 1983, when "All Right" was popular, Flashdance was a hit in movie theaters and on the radio. What's the most recent movie you watched? Most recent song you heard on the radio?
I really haven't watched any movies in a while, as my 15yo, Sophia, has me catching up on Stranger Things with her. But, someone just told me I need to watch Circus of Books soon, and so I shall.
I'm listening to the I ♥ Radio app on my phone right now, and "Love Lies" by Khalid & Normani is playing right now. Big fan of Khalid!
 
7) Also in 1983, America West Airlines took off, flying between Las Vegas and Phoenix. They went nationwide in 2005 after they merged with US Airways. In 2013, they merged again, this time with American Airlines. Do you collect miles in an airline loyalty program?
Yeah, a few. We mostly fly Delta - maybe because I have a couple of friends with connections? - but I really don't even fly every year anymore, so it's a little pointless.
Back in the early-mid 2000s, a different friend's husband worked or Delta. Their cat had kittens, and she was looking for takers when the time came. They lived in Georgia, and we were in Virginia Beach. She ended up flying our new kitten, who we named Tinkerbell, to us on a Delta flight! I mean, that's one way to adopt a new furry family member, right?
(And she was a great cat.)

8) Super Mario Bros. debuted in 1983. Can you name gaming's most famous siblings?
Sure, who doesn't know Mario & Luigi? I loved playing Nintendo back in the early 90s, but I never could rescue that %&*( princess!

9) Random question -- Under hypnosis, you discover you lived three past lives. In the first, you were wealthy beyond your wildest imaginings, thanks to a loveless marriage. In the second, you were a star on the roller derby circuit who had earned the nickname "Smasher." In the third, you were a brilliant mathematician who worked your way through school as an exotic dancer. Which of these would you find most shocking?
First of all, Sam, yes that was random! Ha! I think I'd most be shocked by the first one. I could see myself being Smasher in the roller derby. I can see myself as a sexy, nerdy stripper. But trapped in a loveless marriage just for money? Not now, not then, not ever. Not me!
~*~*~*~*~
That's it, y'all. 
Note: I started this early on Saturday, but I had to lie down in the middle of doing it and didn't wake up until Sunday morning. Oops! I wanted to finish, though, even though probably no one will see it.
Hopefully I'll actually get to SS this week, yeah?
Y'all be good.
Fin.