Hey, guys. Welcome back! I hope you're all still healthy and semi-sane, at least. What more could you hope for?
I'm currently engrossed in the Netflix documentary "I Am A Killer," which has had me transfixed for several nights in a row, now. Have y'all seen it?
Link up here if you want to play along this week!
~*~*~*~*~
Saturday 9: Battle Hymn of the Republic (1963)

Unfamiliar with Judy Garland's rendition of this week's tune? Hear it here.

Memorial Day is the federal holiday designated to honor American service people who died in battle. 

1) On May 30, 1868, President Grant presided over the Memorial Day observance at Arlington National Cemetery. Have you ever visited Arlington Cemetery?
Yes. We went in November of 2004, when I was pregnant with our youngest child. It was a moving experience through and through.

2) On Memorial Day, it is customary to fly the flag at half-staff until noon and then raise it to the top of the staff until sunset. Will you be flying the flag at your home this weekend?
Probably. My husband was in the Honor Guard in the Navy, and that is totally his domain. I defer to him.

3) Memorial Day was originally called Decoration Day, because flowers and ribbons were left on graves of soldiers.  Do you find solace in visiting cemeteries?
I don't, really. I feel deeply about death, and seeing and reading about all the names and dates of the folks buried there whom I haven't even met, alone, sometimes breaks me. This picture, here, is of George Washington Memorial Park in Paramus, New Jersey. My mother and grandparents are buried there. I started visiting my mother there in 1984, when I was seven years old. It was definitely not a moment of solace.

4) The lyrics to this week's song were written by Julia Ward Howe in 1861. Her inspiration was a White House visit with Abraham Lincoln. In 2020, under normal circumstances, public tours of the White House are available but you must request your ticket in advance from your Member of Congress (House or Senate). When you travel, do you plan your trip weeks before you go? Or do you decide how your days will unfold once you reach your destination?
I'm definitely a whole lotta both!

5) Judy Garland performed this week's song before a live audience as a tribute to President Kennedy, who had been assassinated just weeks before. She knew Kennedy personally and considered this a farewell to a friend. While the performance was difficult for her -- at one point she flubs the lyrics -- she believed it was important, and could perhaps help the country heal. Tell us about a song that reminds you of someone you loved who is no longer with us.
This Josh Groban album came out in 2002 or so, before we moved to Guam or maybe while we were there, and I'm a big fan. So I played it a lot while I drove Chloë and me around the island to various errands and appointments, as my belly grew bigger and bigger with the twins. I continued playing it in Virginia when we had to move back. And then I had - and lost - one of the twins, and I was hospitalized along with them for a while. When I got out, I wanted to play it, but I couldn't. I was in grief therapy, which helped a great deal. But man... when I finally played this song again, I realized just how much I could cry during one song.

6) John F. Kennedy served in WWII and was awarded a Navy and Marine Corps medal and a Purple Heart. His brother Joe also served and was awarded the Navy Cross, but he received his citation posthumously, having died during a flying mission over East Suffolk, England. Here at Saturday 9, we consider everyone who serves a hero and want to hear about the veterans and active military members in your life.
My grandfather served in the Navy in WWII. Pictured here are my father-in-law and my husband in September 1976 - around when I was being born, incidentally. Rob's dad was a submariner in the Navy, and of course Rob did a full career in the Navy.

7) Memorial Day is considered the beginning of the summer season. Will you be enjoying warm weather this weekend?
I mean, it'll be okay... But not my idea of warm!

8) Berries are especially popular in summer. Which is your favorite: strawberries, blueberries, blackberries or raspberries?
Oh, I'm like our youngest kiddo, Sophia, in that I'm a sucker for a strawberry! (I'll forgive you for not recognizing my hand from June 2014.)

9) If you could attend a Memorial Day picnic with any fictional character, which would you choose?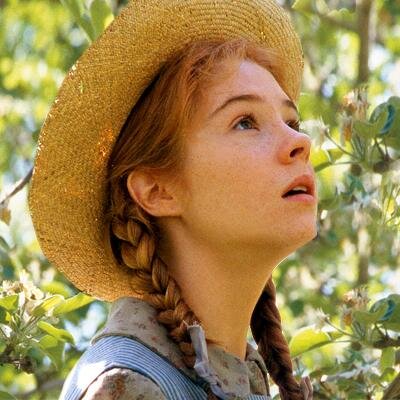 Oh, I'd love to sit down with Anne Shirley (of Green Gables). And I've wanted to visit Prince Edward Island my entire life!
~*~*~*~*~
Well, I'mma head back into another episode of "I Am a Killer" on Netflix again. It draws me in! And email. Back in with the forever emails...
Ta-ta.
Fin.