Howdy, friends! Today, we've got a Dolly (do we really need last names?) Parton song for ya, and I can tell you, I've loved her since I was a fetus. So over 46 years. I think Dolly-Kenny Rogers-Willie Nelson as a trio came into my consciousness together at a very young age. But I was always very transfixed by Dolly, so I'm thrilled to see the focus on her this week. I don't know this week's song, though, so I've got to take a listen! How 'bout you - do you know it?
Make sure you link up here if you're playing along this week! Now I'm way behind, so let's jump right in:
~*~*~*~*~
Saturday 9: Potential New Boyfriend (1983)
Unfamiliar with this week's tune? Hear it here.
1) The lyrics tell us Dolly Parton has spotted a fella who twisted her ignition key and turned her motor on. That was in 1983. Keys are less common today, since many cars are equipped with with push button ignitions and more doors now open for those who know the key pad code or have the right swipe card. What's the last thing you used a key to start or unlock?
Oh gosh, I haven't used a real key in nearly four years. Here at the house for year we've lived in it, the door has the keypad, and my car is a push button starter. For the year we lived in hotels, of course, there was a key card entry - that is, when I couldn't just open our room door with my phone app. And for the year+ we lived in our Idaho house, I just had to tap on the garage door opener and drive in. No key necessary there, either. So it must have Boise, and then, I tell you what, I could not pinpoint an actual day. Hehe.
2) Her potential new boyfriend bought her a drink and she thanked him real sweet. Have you more recently said "thank you," or been thanked yourself?
I've more recently said, "thank you," which was probably to Hubs for bringing me a yogurt in bed. Or giving me the day's ration of meds (it's a lot!), or tapping up the heat, or any number of ways he's helped me in the last 10 minutes alone.
3) This is Dolly's first music video. "Potential New Boyfriend" was a top 20 country hit and made #13 Billboard's Dance chart, yet it's not well remembered today. Share a song from one of your favorite artists that the rest of us Sat 9-ers might not know.
I don't know about being one of my favorite artists, but this is one of my favorite one-hit wonders to come out of the '80s: "Let's Go All The Way" by Sly Fox. I've always loved
the video for it
as much as the song, too.
4) This is not Dolly's first song about a romantic rival. Her hit "Jolene" was inspired by a bank teller who regularly flirted with Dolly's real (not potential!) husband, Carl Dean. Have you recently fallen victim to the green-eyed monster of jealousy? If yes, what were you jealous of (someone's affections, possessions, success ...)?
Admittedly, yes. Someone I know seems to have the wealth enough to be constantly traveling both across the country and out of it, and the good health to do so. I'm happy to live vicariously through other peoples' adventures to a point, but then I get insanely restless!
5) Dolly enjoys telling interviewers she met Carl at the Wishy-Washy Laundromat in Nashville. Do you have a hamperful of dirty clothes awaiting you? Or are you all caught up with that particular household chore?
When I was living alone, I was always caught up on laundry. When it was just my husband me, and I had to walk, pregnant, about a mile each way to the nearest laundromat, I was always caught up on laundry. When we were in a house, and baby Chloë had joined us, I was always caught up. When Jack joined us, always caught up. Then we had our last baby, and everything went to hell in a handbasket. Laundry hasn't ever been caught up since!
6) Dolly Parton's Imagination Library makes free books available to children. It was begun in 1995, and by 2020, her charity had distributed 150,000,000 books! When you were a very young reader, what was your favorite book?

I'm not sure which book, or if it was just all his books that we had, but I've always loved the works by Richard Scarry. I loved how colorful and busy they are - I'm a dedicated and devout maximalist - and that there was all ways plenty to seek out and find. They were interesting, they were funny, and they kept being so after one read, after two, maybe after even five reads. I was a big fan as a little girl!
7) Andy Warhol was fascinated by Dolly. When he asked her what her perfect meal would include, she responded it would have to start with chicken and dumpling soup. How would you have answered Andy? What's your perfect dinner menu?
Well, of course, my
perfect
meal would 
have
to include some kind of amazing pizza - NO meat on mine, please - and I'd love both a creative and delicious appetizer
and
dessert to share with my beloved. If you want to throw in a lime sherbet pallette cleanser and/or something for an Amuse-Bouche, I mean, that's okay, too!
8) Thinking of chicken ... In 1983, when this song was popular, McDonald's introduced McNuggets. Today, it's one of McDonald's most popular menu items. Are you a fan?
No. I sometimes have eaten nuggets over the years when I'm starving, my spoons are low, my protein is low, it's there, it's quick, it's cheap, etc. But in the last year or so, I've noticed the McNuggets (at least around here) have changed. Maybe it's the oil they use, but the taste and texture are
so
drastically different that it makes it not worth stepping over that vegetarian/omnivore line for me anymore.
9) Random question: Would you rather visit a desert or a jungle?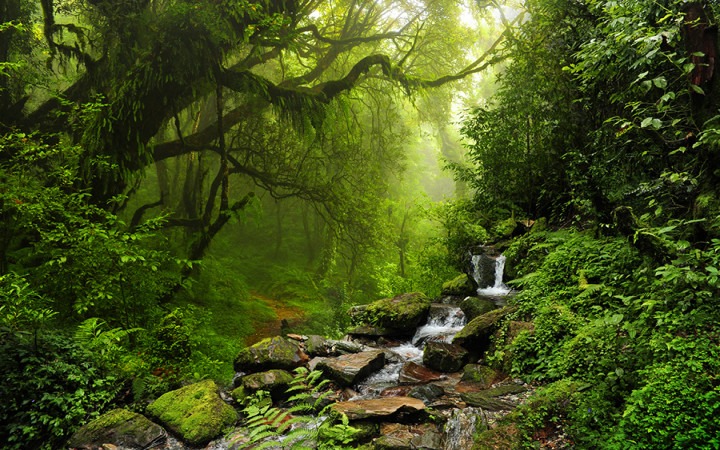 I would much rather go to the jungle. I'd rather die in the jungle than the desert, if that's the question of the day, too. So much lush, tropical foliage; more diverse species both plant an animal; always warm... that's pretty much my heaven on earth right there.
~*~*~*~*~
That was a fun one! Now I've got to check with Eldest Child to see if any of the little kiddo books we've amassed so far for her future progeny are Richard Scarry books. If not, time to add to the... amassment!
Y'all have a beautiful weekend!
fin.