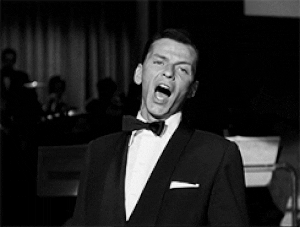 Welcome, welcome. Step into my lair. I'm just going to jump right into this one, because Sophia is waiting for me to watch Seasons 1-3 of the Netflix show Stranger Things with her. (Break time. I'd never seen it before; now we've watched Season 1, Episode 1. I think I'm hooked!) Link up here if you'd like to play along with us this week!
~*~*~*~*~
"America, the Beautiful"

Unfamiliar with Frank Sinatra's 1945 version of this song? Hear it here.

1) In 2016, a group recommended that this week's song replace "The Star Spangled Banner" as our national anthem. They maintain it's just as beautiful but easier to sing. How do you feel about this?
Hmm. I don't have a super strong opinion either way, but I do love our current National Anthem. I just feel like, if something is easier to sing, does that mean we should choose it to represent our entire country and her patriotism? 🤷‍♀️

2) Katharine L. Bates said her lyrics were inspired by a trip to Pike's Peak. What's the most beautiful American spot you've ever visited?
Oh, gosh. This was a tough one for me. I've been to Tumon Bay in Guam, which is gorgeous. I've been from Key West to Niagara Falls. I've been from the Outer Banks of North Carolina to the Santa Monica Pier. I have seen a lot, but there is still a lot yet to see (Grand Canyon, I'm coming for you!). However, the one spot I would return to 10 times out of 10, given the chance, is the Jersey Shore. I love watching those huge waves - taller than I am - of the Atlantic Ocean crashing over and over on the beach. So fierce! So cold! So beautiful.

3) The music was written by organist Samuel Augustus Ward. Both Bates and Ward were very formal when signing their names professionally - she including her middle initial and he with his full middle name. How about you? When you sign checks or documents, do you use your middle name or initial?
Well, my signature is no longer really legible, but I do use my middle initial. Also, you can see here on the watermark that I do use the "A."
4) In 1945, when this version of the song was recorded, America lost Franklin Delano Roosevelt, and Frank Sinatra said, "I lost a hero." What late, great American hero from our past would you like to honor today? 
Hee.
So, in consideration of this question, I first considered Abraham Lincoln, because - duh, the Emancipation Proclamation, abolishment of slavery, etc., were all quite huge. But then I thought of Frederick Douglass. And then I thought of more and more Black Americans who deserve the honor. There are so many. I finally decided on Maya Angelou, because she was alive in my lifetime and made such an impact on my life with I Know Why the Caged Bird Sings, amongst other writings of hers. RIP, Ms. Angelou.
"You may shoot me with your words,
You may cut me with your eyes,
You may kill me with your hatefulness,
But still, like air, I'll rise."

5) Also in 1945, a 19-year-old "hoofer" waited outside the Los Angeles radio station where Sinatra was being interviewed. That was the beginning of the friendship between Sammy Davis, Jr., and Frank Sinatra. Tell us about your oldest friend.

That should probably be Ursula, whose very Irish mum, Olive, was my sister's and my babysitter from early on until we moved from Monroe to Syracuse, New York. Ursula has the very NYC accent that I still slip into now and then. We three had a lot of great times together. And it was at their house that I learned my love for PB&J sandwiches with chocolate chip cookies on the side...
6) The Fourth of July means we're in the middle of summer. Are you careful about applying sunscreen?
Oh, hell yes. I hate it, but I'm extremely fair-skinned. I've had enough major sunburns in my life to know I'm fer sure going to get skin cancer. I have zero doubts.
7) Mosquito bites can be a major summer annoyance. Are you scratching any itches right now?

Not at the moment. Phew!! I hate mosquito bites.
8) Emergency rooms report an increase in wrist injuries in summer, with people falling off bikes and skateboards and jamming their wrists catching hard-hit softballs. Have you been to the ER or Urgent Care during 2019?
Yup. Sometimes, between monthly shots of my biologic meds (formerly Aimovig, now switching over to Ajovy), weekly nerve blocks, weekly migraine cocktail infusions (as above), abortive prescriptions such as every triptan on the planet, all the OTCs I'm not supposed to use... sometimes, I still get breakthrough migraine. Okay, so really, it's daily, so I also occasionally have to go to ER and get that cocktail infused there. And sometimes, they even admit me. Sucks. Last month, these intractable migraines cost our health insurance $28,000. (Cost us nothing, thank God, so once again: thank you, honey, for your service to this great nation!)
9) New York is home to Nathan's Hot Dog Eating Contest every year on the 4th. Will hot dogs be consumed in your household this weeken
d?
Yes. Chloë (curly sue there, on the left) and Sophia had hot dogs. The boys had hamburgers. I had... eggs. (I'm doing keto this month to try and take off some of this weight I've gained from all these new meds, so. Otherwise, I probably would've had hummus. Heh.)
So, wherever you are in the world, if you're an American, I hope you enjoyed this past Independence Day 2019! And if you're not American, thanks for joining us in the fracas regardless!
Cheers, y'all.